In the News 18th December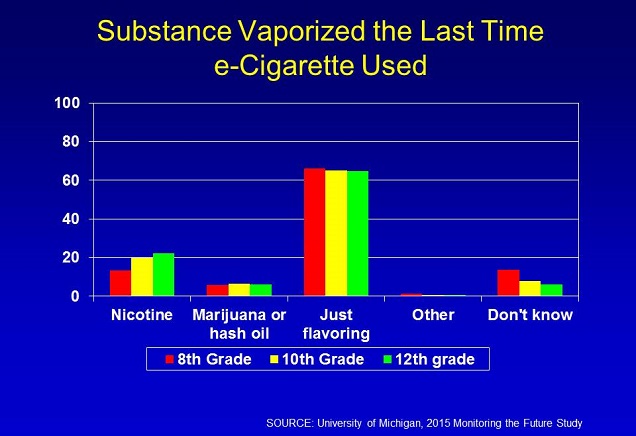 Fridays News at a glance:
Think of the Children! (Reprise) – Smoking cessation services will not be bound by e-cigarette advertising restrictions – UK's David Cameron Gives E-Cigarettes Ringing Endorsement – They Work for You – New Laws for Electronic Cigarettes and Tobacco – Information for e cig beginners – Tobacco Harm Reduction Update – Boston raises tobacco-buying age to 21 – Karl Erik Lund – Nicotine Science and Policy – Daily Digest – Fri, 18 December 2015
Argvargen
It's nearly a year since I wrote this piece about under-18 vaping in Sweden, highlighting the responsible behaviour of both a vape shop and a parent. I also linked to what I still consider to be the most pragmatic and understanding article written on this subject.

The reason I wanted to return to it is two-fold: firstly, CAN (the national body responsible for providing statistics on drug, alcohol and tobacco use in Sweden) have released their annual report; and also because I was intrigued by the SR (the state national radio) report on their findings, and how these stats will likely be interpreted by the enemies of vaping in particular, and harm-reduction in general….
Will not be bound by e-cigarette advertising restrictions – Pharmaceutical Journal
Pharmacists running smoking cessation services in England, Wales and Northern Ireland will still be able to promote the option of e-cigarettes under new European advertising rules coming into force in 2016.

Promotion of the products will be interpreted as a public health message under the European Union (EU) directive and will fall outside the advertising clampdown that applies from May 2016, according to the Department of Health (DH)…
Gives E-Cigarettes Ringing Endorsement – Guy Bentley
The Prime Minister of the United Kingdom voiced support for e-cigarettes Wednesday, saying they're a "legitimate" path for people to quit smoking.

"Certainly as somebody who has been through this battle a number of times, eventually relatively successfully, lots of people find different ways of doing it and certainly for some people e-cigarettes are successful," Prime Minister David Cameron said in the House of Commons Wednesday….
Westminster Hall 17th December 2015 – Thanks as always to @dnglos for the YouTubage!
Jane Ellison Public Health Minister commentary – Some gaps in logic here!
In implementing the new EU rules, we intend to work towards regulation that will permit a range of products, which people want to use, to remain on the market, but with those products positioned as alternatives to smoking, not as products that introduce children to vaping or smoking….
---


---
Statement by Associate Minister of Health and Long-Term Care – Ontario
"Today I am pleased to reaffirm our government's commitment to move forward with our efforts to protect our youth from the dangers of tobacco and the potential harms of e-cigarettes.

Effective January 1st, 2016, the sale and supply of e-cigarettes to those under the age of 19 will be banned. As well, we are banning the sale of certain flavoured tobacco products and increasing the maximum fines for youth-related sales offences under the Smoke-Free Ontario Act…
Dave Upton – E-Cig Health Risks
I know that when I started out down this road I had no problem finding thousands of websites. Unfortunately, most of them were really just trying to sell and they didn't help me much. No – In fact, they didn't help at all.
THR Surveillance, News Stories On MTF Survey Findings, THR Research, THR Advocacy, FDA Deeming Ban (Congress), FDA Deeming Ban, Other FDA, Other DHHS, THR Business, UK MHRA Approves BAT Vapor Product As Medicine, Cigarette-protecting Vapor Product Bans, Litigation, Taxation, Lobbying for State $$, E-liquid Marketing Restriction, E-liquid Packaging Restrictions, Vaping Bans, Minimum Age Laws, Farming Restrictions, EU TPD, Tobacco Display Bans, Deceptive Smokeless Tobacco Warnings, Gaffe, More Junk Science, Propaganda and Lies.
The Walsh administration has raised the age to buy cigarettes and other tobacco products to 21. The change goes into effect on Feb. 15.

The city's Board of Health voted this week to increase the legal age to buy smoking products to 21, a move the administration said adds Boston to the list of more than 85 other communities across the state.
"I have worked with tobacco research for almost 25 years, but I've never seen the tobacco industry, the pharmaceutical industry and anti-tobacco movement united against a common enemy."