In the News December 15th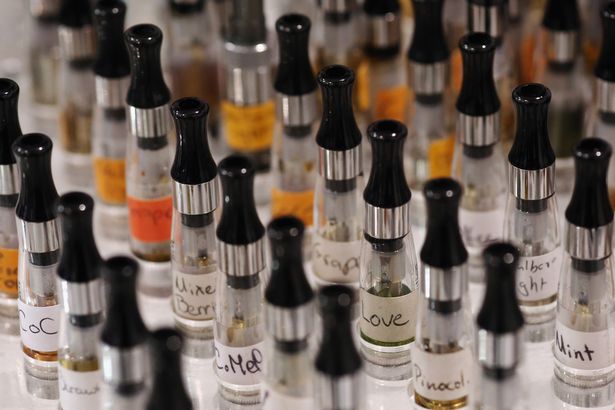 Thursdays News at a glance:
The Children, You Say? – The Least Of Freedoms – The Future of Vaping – How the FDA Helped Philip Morris – Smokers in Northumberland – New decree postpones dates and reduces fees – D.C. District Court Should Issue an Immediate Injunction – E-Cigarette vapour does not cause DNA damage – Smoking rates falling – FDA still hasn't busted a vape shop  – Teen vaping, data shows decline – Are e-cigarettes helpful or harmful? – The global e-cigarette market – Nicotine Science and Policy Daily Digest – Thursday, 15 December 2016
Dick Puddlecote
I'm sure you'll all remember how plain packaging was sold to governments as a way of stopping children from taking up smoking, right?

Well, that quickly morphed into deterring adults once the liars in the tobacco control industry had gotten their way, but they did always say that there was no threat to freedom of choice. In fact, it was often stated categorically that they had no intention whatsoever of interfering with the choices that smokers make!
 Frank Davis
These days I think of myself as a soldier fighting a war. I wake up every day to that war. And I'm fighting for freedom. I'm fighting not so much for freedom in general, but instead for a single, very simple freedom: the freedom to sit in a pub and drink a pint of beer and smoke a cigarette. For I think that if that simple freedom is lost, all freedom is lost.
15 E-Cig Experts Share Their Predictions For 2017
For the fifth year running, some of the biggest voices in the e-cig industry have gone out on a limb to predict the future of e-cigs next year.

This year we're delighted to bring you thoughts from scientists, public health, a documentary maker, vape activists, trade organisations, consumer organisations, bloggers and more.
Rich Duprey,  The Motley Fool
One of the biggest complaints e-cig users have with the devices currently on the market is taste. Because the typical e-cig heats a nicotine-infused liquid to create a vapor that is inhaled, users say it leaves something of a chemical aftertaste. E-cig usage that had rocketed to annual triple-digit gains after being introduced have suddenly cooled off, and estimates that they would overtake combustible cigarette sales are no longer bandied about.
---

---
Urged to ditch or switch this Christmas
Fresh is encouraging people across the region to make 2017 the year they go smoke-free and for smokers not quite ready to take the leap, to try switching to an e-cig instead of smoking during the Christmas party season.

While quitting completely is best, switching to an e-cig is estimated to be 95 per cent safer than smoking and can save smokers thousands of pounds over the course of a year.
The new decree, published on December 14, 2016 in the Official Journal of the French Republic, revises the transitional periods for the declaration and the notification of vaping products containing nicotine as well as their costs, in application of the EU TPD.
Against Enforcement of FDA Deeming Regulations
Michael Siegel – The Rest of the Story
According to an ABC News story, a Connecticut man was injured when an electronic cigarette exploded in his mouth. The problem, according to the local Deputy Fire Marshal, is that "cheaply made aftermarket batteries can short circuit in milliseconds." The article reports that there have been at least 92 other documented explosions.
---
---
E-Cigarette vapour does not cause DNA damage in human cells
E-cigarette vapour does not damage DNA, even at doses 28 times that of equivalent smoke exposure.

Scientists at British American Tobacco used lab-based cellular tests to examine the impact of cigarette smoke and Vype e-cigarette vapour on human lung cells.
Understanding the Ingredients in Your Favorite Vape – Bruce Brown
More and more people are turning to e-cigarettes as an alternative to traditional cigarettes. While inhaling anything into your lungs is never 100% safe, e-cigarettes are vastly more healthy for you if you do smoke, and may be a way to ween yourself off of traditional cigarettes if you want to quit smoking altogether.
Will we reach the Smokefree 2025 target? – Rachel Thomas
An ever-increasing number of people are stubbing out their cigarettes for the last time, bringing renewed hope that New Zealand could be smokefree by 2025.

New research has revealed the number of regular smokers dropped to 15.1 per cent in 2013, according to NZ Census data, which translates to a 22.5 per cent drop in smokers since 2006.
Jim McDonald, Vaping 360
The FDA has released a new list of retailers who were caught selling to minors, and again there were no vape shops on the list. In fact, there have been no brick-and-mortar vapor businesses cited by the federal agency since the deeming regulations went into effect on August 8.

This time there were also no online vaping businesses on the list either. The last time we reportedon the FDA's compliance enforcement, there were several online sellers who received warning letters from the agency.
---

---
It depends on whom you ask – Seema Yasmin
Public health experts are in disagreement over the safety of e-cigarettes. In the U.K., the consensus is that e-cigarettes can help people give up smoking. In the U.S., public health experts say e-cigarettes encourage young people to take up smoking and are an emerging public health threat.
Courtney Goldsmith, CityAM
The global electronic cigarette market is set to be worth $32bn (£25bn) by the year 2021, while the UK market grows to $5.67bn (£4.46bn), a new report suggests.

The "tremendous" growth rate of vapour products is due to increased popularity in North America, particularly the US, and European countries including the UK, a new report by Beige Market Intelligence suggests.
Beth Mole
Last Thursday, US Surgeon General Vivek Murthy made headlines by boldly proclaiming that teen e-cigarette use is a "major public health concern." The assertion came alongside a government report with some eye-popping figures, including that e-cigarette use among high school students increased by more than 900 percent between 2011 and 2015.
---
A look back at how things have moved on or otherwise…
Dick Puddlecote
Regular readers here may remember an article in September reporting that vape-hating Martin McKee and Chief Medical Officer Sally Davies share monumental levels of correspondence between each other on the subject of e-cigs. So much so that the fellow jewel robber who used the FOI Act to request information over a relatively short period was told it would cost far too much to dig it all out!
Fergus Mason – E-Cig Plaza
Details are now emerging of a conspiracy between Chief Medical Officer Sally Davies and a cabal of "public health" activists to prevent research that might show vaping in a positive light. It's time these crazed fanatics were ejected from the discussion; they are corrupt and dangerous, and they've outlived their welcome.

I'd love to do nothing with this blog but chat about how great vaping is, discuss the latest awesome gear and share people's stories of how electronic cigarettes helped them quit smoking. But I can't.
Fergus Mason – E-Cig Plaza
It often seems like vaping is being crushed by a massive steamroller with a blind and deaf idiot at the wheel; no matter what the evidence says the clanking monster grinds on, leaving a trail of bans and stupid laws in its wake. However this week's news from Glasgow hints that it might have a reverse gear after all….
---
Visit Nicotine Science & Policy for more News from around the World

---