In the News April 6th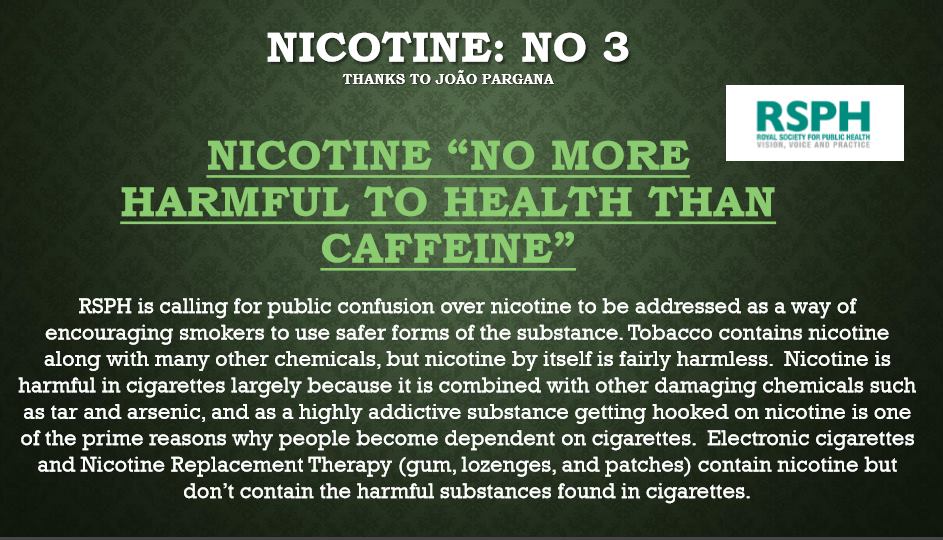 Wednesdays News at a glance:
Sheila Duffy Cheesecake – Centers for Disease Control: Release Smokeless Stats – David Sweanor to speak at VAO protest – Evidence, Policy, and E-Cigarettes  – Lying About Snus and E-Cigarettes Is Like Blocking Access to Clean Heroin Needles – E-cigarettes: regulations for consumer products – AIDUCE: Does not meet the criteria of Wikipedia – Smokers and non-smokers views of e- cigarettes – A survey of Ecig use in the US – The UK's CDC is okay with e-cigs – Vaping Advocates to Close Down streets of Toronto – Why are states taxing e-cigarettes? – Nicotine Science and Policy Daily Digest – Wednesday, 6 April 2015
Dick Puddlecote
An article appeared at the Scotsman this morning written by Sheila Duffy of ASH Scotland.

You may remember her dictating who elected Scottish MPs should and should not listen to in November where the reaction was her being quite rightly described as "part of the tobacco industry".

Well this morning she was in a philosophical mood. Philosophical but occasionally in the dishonest, economically and scientifically illiterate way that tobacco controllers are, that is.
Just £175 to go!
Vapers in Power are holding a free prize draw for all those people that make donations over £5 to the Crowdfund for our Election Campaign in Wales.

We are glad to include the following items as donated by ViP members and Welsh Vendors who have dug deep for us.
Release Smokeless Stats – Brad Rodu – Tobacco Truth
The U.S. Centers for Disease Control and Prevention (CDC) has for decades published annual estimates of smoking-related deaths, which I have analyzed on occasion (here and here).

It is remarkable that what I refer to as the CDC's "Big Kill" estimates are delivered with single-digit precision. For example, the current estimate of smoking-attributable deaths is 480,317 (available here).
Vapor Advocates of Ontario, is excited to announce that David Sweanor, Professor of Law at the University of Carlton and a long time supporter and advocate of vaping, will be joining us during our protest at Queen's Park on Saturday, April 9th and address the thousand plus vapers that are planning on attending this monumental event!
---

---
Will England Reframe the Debate? – NEJM
Tobacco-control advocates have been embroiled in a multiyear controversy over whether electronic cigarettes threaten the goal of further reducing tobacco smoking or offer the possibility of minimizing harm for people who cannot or will not quit smoking conventional cigarettes. England and the United States have now staked out very different positions…
Is Like Blocking Access to Clean Heroin Needles – Jacob Sullum
In a blistering indictment of lying in the name of "public health," two prominent tobacco researchers slam medical organizations and government agencies for suppressing information about the huge difference in risk between cigarettes and other nicotine products.
Updated April 4th 2016
Preliminary guidance on how to get an e-cigarette on the market in the UK, including the notification scheme and reporting problems with e-cigarettes.
Google Translate is your friend!
It is with amazement that The AIDUCE (Independent Association of electronic cigarette users) saw its Wikipedia page just deleted. The reason? The combination would not meet Wikipedia's eligibility criteria.

It's actually quite difficult to understand that a Wikipedia page can be removed in this way but the site has a clear policy and specific eligibility criteria.
You are invited to participate in a study on the use of e- cigarettes/mods designed by Professor Lynn Myers. This is an academic Health Psychology study interested in what people think about e- cigarettes/mods. For example, if people think they are beneficial to health.
---

---
Jérôme Harlay – PGVG
A US FDA and NIH program, PATH, is studying tobacco use and health in the United States by means of a longitudinal population survey. The first wave of data (2013) have been shown during a scientific meeting in Chicago. A tobacco expert gives her opinion in the light of the results.
To e-puff or not to e-puff: that is the question. Public Health England (PHE), a governmental body the equivalent of our Centers for Disease Control and Prevention (CDC), recently released an evidence review claiming that e-cigarettes are 95 percent less harmful to health than combustible cigarettes. In recommending that smokers who cannot or will not quit cigarettes try e-cigarettes, PHE takes a position on the opposite side of the aisle from the U.S….


Thousands of protestors from across Ontario will gather at Queen's Park on Saturday, April 9th to challenge the Kathleen Wynne government's decision to include vaping as part of the government's anti-smoking agenda. Bill 45 – Schedule 3 The Electronic Cigarette Act – incorrectly associates vapor with tobacco, prohibiting the use of e-cigarettes in public spaces, workplaces and designated outdoor areas.
Alex Brill – Alan D. Viard
Cigarette taxes are one of the many sources of revenue that states have come to rely on. Taxing cigarettes makes sense based on the plentiful evidence that smoking imposes significant health care costs on society. As a bonus, cigarette taxes also bring in money for state governments.