In the News 8th October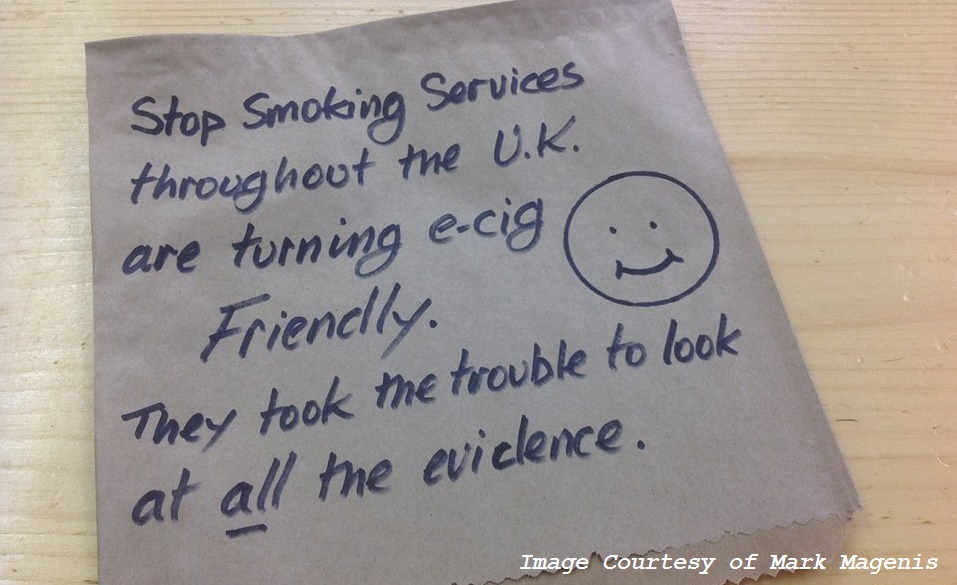 Thursdays News at a glance:
The tobacco endgame – a critical review of the policy ideas – Blackburn firm Totally Wicked fights for its e-cigs – Vaping discussed on BBC Radio 5 Live – Benefits if You Cut Down Using Low-Nicotine Cigarettes, But Not if You Use E-Cigarettes – Tom Steyer spending for California cigarette tax – Nicotine delivery, retention, and pharmacokinetics – Drivers should be held criminally responsible for smokers – Nicotine Science and Policy – Daily Digest – Thu, 8 October 2015
A critical review of the policy ideas – Updated from Clive Bates
Reducing the nicotine content to make cigarettes less addictive

This is a form of graduated prohibition of cigarettes – essentially making cigarettes unviable as recreational nicotine delivery devices by making it impossible to draw nicotine with pharmacokinetics that provide an adequate psychoactive reward. As such it suffers from generic problems of prohibition….
A really useful comment on this one… Some vapers just don't seem to know what we're up against!
Totally Wicked managing director Fraser Cropper said: "This is the culmination of a battle between those who recognise the public health potential vaping offers and wish to see vaping flourish under a robust yet proportionate consumer regulatory system, and those who wish to see e-cigarettes subjected to a disproportionate and inappropriate regulatory regime…."
Sarah Jakes discussing E-Cigs today – Thanks as always to @dnglos for "YouTubing" this!
If You Cut Down Using Low-Nicotine Cigarettes, But Not if You Use E-Cigarettes – The Rest of the Story
In a Jekyll and Hyde fashion, Dr. Stan Glantz has taken two opposite positions on the issue of whether reducing cigarette consumption can convey health benefits. If you reduce cigarette consumption using e-cigarettes, it has no health benefits, Glantz says. But if you reduce cigarette consumption by switching to low-nicotine cigarettes, it does have health benefits, according to Glantz….
Jeremy B. White – Sacramento Bee
The initiative would impose a $2-a-pack tax that would largely fund Medi-Cal. It would also tax electronic cigarettes, products that typically heat nicotine-laced into a fine vapor. Health advocates have pushed to regulate e-cigarettes as tobacco products, pointing to the exploding popularity of "vaping" among teenagers.
Jacques Le Houezec – Google Translate is your friend!
A new study, conducted by the group of Neal Benowitz in San Francisco, the Pope of nicotine in the blood, shows that the absorption of nicotine by experienced vapors is large enough and quick to explain the success of personal vaporizer in smoking cessation…
A more practical approach is needed to make e-cigarettes available to smokers who want to stop smoking conventional cigarettes.

After survey can't find a single regular user that has never smoked – Wales Online
Newly published research has cast doubt on claims that e-cigarettes attract non-smokers, it has been claimed.

The Welsh Health Survey asked regular users of vaping devices if they had previously been tobacco users – and almost every single respondent said yes.

The statistics have led the Liberal Democrats to claim they undermine health minister Mark Drakeford's argument that e-cigarettes act as a gateway to smoking.

But the Welsh Government has dismissed those comments…..
When children present in cars, Law Society says
"We are supportive of the bill's policy intent, the harmful effects of tobacco and smoking are undisputed, as well as the effects of second hand smoke, particularly for children.    We are pleased to see the Health and Sport Committee's recommendation that the driver be held criminally responsible, as they are the ones who have control of the car and have a duty to ensure the safety and wellbeing of their passengers….