In the News 6th October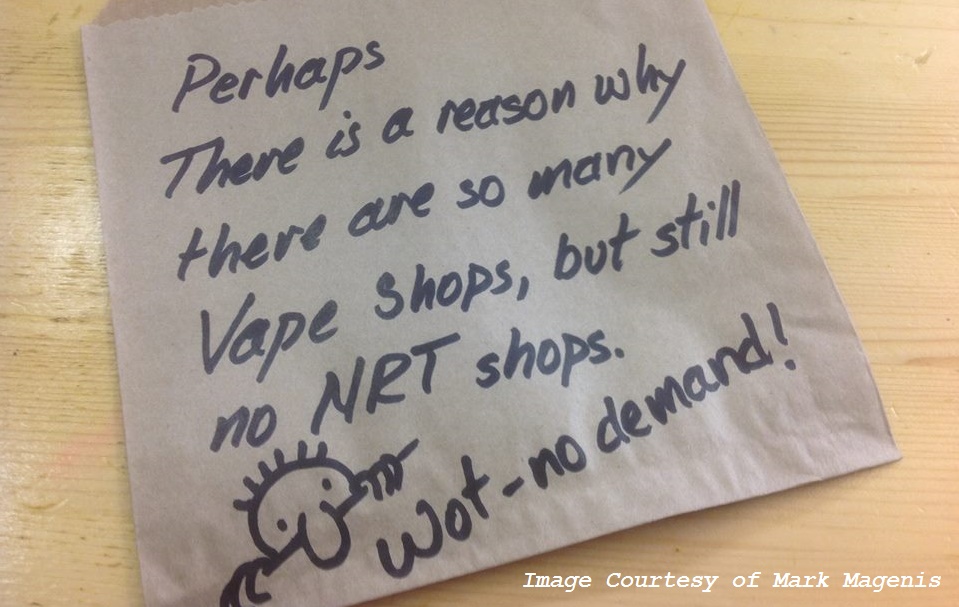 Tuesdays News at a glance:
A "War" On 80% Of The Public – Up in Vapor: The Real Story Behind the Formaldehyde-Cancer Link – How Vapers Can Help Smokers Quit – EU ignoring the science over electronic cigarettes – Smoking Champions Study Day – Wheaton council OKs rules for e-cigarettes – E-cigs are a godsend for reluctant smokers – Veracity behind the vape – Nicotine Science and Policy – Daily Digest – Tue, 6 October 2015
From Dick Puddlecote:
Here's more of that non-existent slippery slope we keep hearing about.

An international expert on tobacco control is calling for Scotland to lead the way in a global 'war' to tackle alcohol problems, similar to the efforts which have been made to reduce smoking across the western world.

A "war", no less! So who is this caped crusader against a consumer product enjoyed harmlessly by the vast majority of the population….?
The Real Story Behind the Formaldehyde-Cancer Link – Tobacco Truth
Vapers, rest easy about e-cigarettes and formaldehyde.

As a pathologist with 28 years' formaldehyde exposure via workplace inhalation, I have both a professional and a personal interest in whether formaldehyde causes cancer.  It turns out that the formaldehyde-cancer link is weak to nonexistent, and it has been grossly exaggerated by organizations like the International Agency for Research on Cancer (IARC) and the U.S. National Toxicology Program (NTP). …
Sally Satel – Forbes
The controversy surrounding electronic cigarettes continues to smolder. E-cigarettes are the battery-powered devices that deliver an aerosol that contains nicotine but no trace of cancer-causing tar. Despite ample data to the contrary, critics insist that e-cigarettes are a "gateway" to teen smoking and that they contain dangerous levels of toxins. Meanwhile, the Food and Drug Administration has yet to issue regulations….
Guernsey Press
Campaigners are taking legal action against a Brussels regulation they say could lead to a ban on the sale of some popular products.

The issue was raised at a meeting on the fringe of the Conservative Party conference in Manchester organised by the UK 2020 think-tank set up by ex-cabinet minister Owen Paterson…
British Thoracic Society
On Thursday 28th September, Louise Ross, manager of the Leicester Stop Smoking Service was invited to speak at the British Thoracic Society Stop Smoking Champions Study Day.

The British Thoracic Society (BTS) is a registered charity that exists to improve standards of care for people who have respiratory diseases and to support those who provide that care; this meeting in particular served as a way for experts in their field to share knowledge….
This is the vaping story of Abigail Cottrill, Thornton, Bradford. I wanted to tell you my story and explain why I'm concerned with upcoming vaping regulations..

Jessica Cilella – Daily Herald
The city council approved a new smoke- and vape-free ordinance in a 5-0 vote Monday in an effort to "protect the public health, comfort and environment" and ensure nonsmokers and non-vapers can "breathe air free from the hazardous effects of secondhand smoke and alternative nicotine products."
Bill Edward Nielsen – Cape Cod Times
Cigarettes are regulated because they cause cancer, not because they are addictive. Nicotine does not cause cancer, and nicotine is only slightly addictive — and not as addictive as caffeine. Cigarette companies put additives into the cigarettes to make them more addictive. These chemicals are what cause cancer. Nicotine, in my opinion, is not a gateway drug….
Regulator Watch – The Province
Vaping, you have most certainly heard about it. But, how certain are you in knowing that what you have heard is really true? There's a lot of misinformation out there and some unknowns. And certainly, when it comes to regulating what some consider to be a vice, you can bet the debate will get heated….