In the News 2nd Jan 15

Clive Bates made this access to information request to The Consumers, Health and Food Executive Agency
Dear Consumers, Health and Food Executive Agency Under the right of access to documents in the EU treaties, as developed in Regulation 1049/2001, I am requesting documents which refer to: (1) the procurement process undertaken by the Consumers, Health and Food Executive Agency (CHAFEA) to contract the EUREST Consortium (BRFAA – www.bioacademy.gr and ENSP – www.ensp.org), to provide services and to assist the European Commission in the development of an EU common reporting format for submission of data on electronic cigarettes and refill containers provided for in the Tobacco Products Directive 2014/40/EU (TPD). (2) the subsequent management of the contract; performance management of the contractor; the handling of complaints or concerns raised about the performance of the contracted services by external bodies or the European Commission. This request includes, but is not limited to: terms of reference; advertising, tender documents, assessment criteria for proposals; assessment of contractors and their proposals; the consultation questionnaire used by the contractor and CFHEA or DG Sanco comments and approval of these; relevant email traffic within CHFEA, between CHFEA and DG Sanco, and between CHFEA and the EUREST consortium, its member organisation or individuals within those organisations. Yours faithfully, Clive Bates
Velvet Glove. Iron Fist
"The whole aim of practical politics is to keep the populace alarmed (and hence clamorous to be led to safety) by menacing it with an endless series of hobgoblins, all of them imaginary." – H. L. Mencken This year, like every year, has been a miserable one for personal freedom and an excellent one for charlatans, authoritarians and wowsers. Here are some of the lowlights.
Excellent article and advice from Simon Thurlow on NNA
Quite simply, I believe we are winning the battle. We are winning the hearts and minds of AM's as we meet them. We have countered every single argument Drakeford has presented with sound scientific EVIDENCE. Finally, I believe that Mark Drakeford is finally coming to realise that we are a force to be reckoned with. We are not some 'oiks' from the Valleys with a grievance. We are, in fact, a learned body of people who know what we are talking about and can back up everything we say with solid scientific evidence.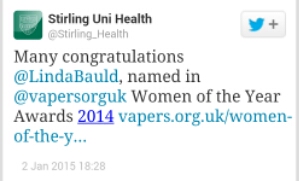 Inspired or otherwise by a tweet from Rhydian Mann sent to Louise Ross @grannylouisa yesterday after her excellent radio interview on BBC R4 'You and Yours' We believe that other names should be similarly honoured Lorien Jollye and Sarah Jakes for their tireless and unstinting advocacy efforts ……