In the News 26th June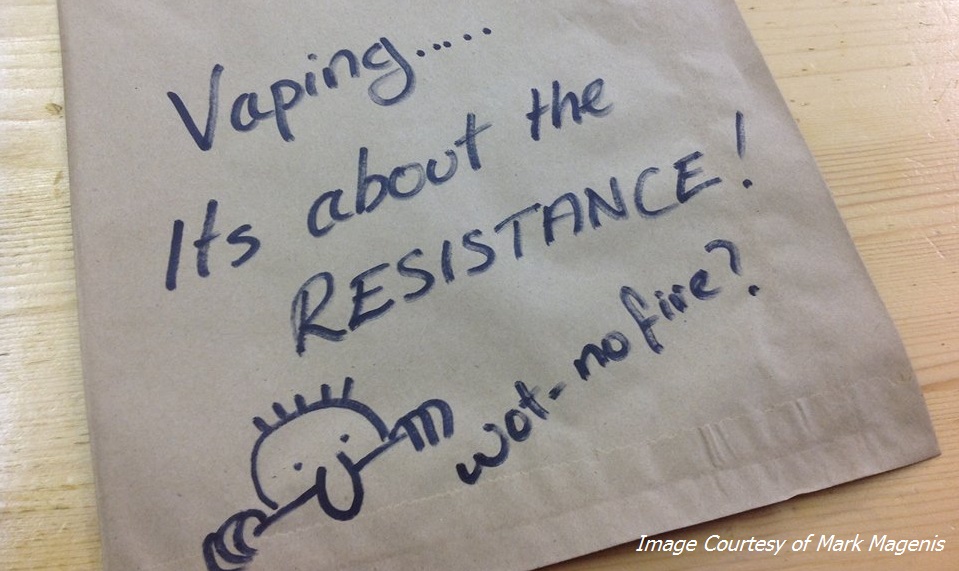 Fridays News at a glance:
Royal Rumble: Big Vaping vs Big Tobacco vs Tobacco Control – Reading research is actually a good thing – Three ways you can help vaping survive this week – Quote of the day – from ASH on vaping and renormalising smoking – Glantz telling us why vaping is a great idea – More policy based evidence making from Stanton Glantz – Dear @FDATobacco: Stanton Glantz's junk science reflects upon you – Lack of Testing, Orgs in bed with Big Tobacco, Fighting Everywhere – The 'Public Health' Cabal's War on E-Cigarettes – The Vaping World Today, What Can You Do To Help – Nicotine Science and Policy – Daily Digest
Big Vaping vs Big Tobacco vs Tobacco Control – Facts Do Matter
Let me introduce the players for this rumble. In the angry red corner we have, British American Tobacco, Imperial Tobacco, Altria and Japan Tobacco International. The four major players on a global scale in the tobacco industry.

In the cowardly yellow corner we have, University of California, San Francisco (UCSF), California Department of Public Health, Faculty of Public Health, Cancer Council Australia, American Lung Foundation, American Heart Foundation, Tobacco Free Kids, British Medical Association and so on…..
Second helping for today from – Facts Do Matter:
We all know that reading scientific research can actually be a bit of a bore, long phrases and technical jargon litters the vast majority of studies. Heck, they even have their own terminology; as if doing that makes the research they produce not for us mere mortals….
Three actions you can take this week to help keep vaping free:
1. Take the worldwide Vaping Truth Survey and tell the world about your vaping habits – having this data will help to counter some of the rubbish which is regularly spouted https://vapinglinks.wordpress.com/2015/06/22/the-vaping-truth-survey-is-now-live/
2. Sign up as a supporter of the New Nicotine Alliance – and encourage other vapers to sign up too. The NNA works fantastically hard for us behind the scenes – and can be even more influential with your support http://nnalliance.org/supporters/supporter-sign-up-form
3. Sign this US petition to reject the FDA's proposed deeming regulations – which seek to classify vaping products as tobacco products: https://goo.gl/tLp5mU
Quote of the day – from ASH on vaping and renormalising smoking:-
"There are people in the public health community who are obsessed by e-cigarettes. This idea that it renormalizes smoking is absolute bullshit. There is no evidence so far that it is a gateway into smoking for young people."
Vaping Giraffe:
In the beginning of this month I wrote a post about an article written by Tore Sanner and Tor K. Grimsrud, where they try to convince Norwegian politicians to heavily regulate e-cigarettes, in reality handing the market over to Big Tobacco. Pretty much the same kind of propaganda we're used to from Stanton Glantz, with conclusions drawn out of thin air, preferably backed up by some graphs and data that has nothing to do with the conclusion whatsoever….
ECITA:
As we all know, Professor Glantz is an opponent of tobacco harm reduction (THR) in general, and e-cigarettes in particular. In a recent study, he purports to demonstrate why THR (and particularly e-cigarettes) are not required. It has long been considered that as smoking rates fall, the remaining smokers become 'hardened' in that they are less likely to quit….
Stanton Glantz's junk science reflects upon you – Carl V. Phillips
Stanton Glantz is not the worst liar or most incompetent excuse for a scientist in public health, or even tobacco control. There are plenty of people who make even stupider claims, including some of  his own sidekicks. Since tobacco control is based mainly on junk science, there is a natural niche that is going to be filled by someone….
This list goes on for what seems like miles. You think things are quiet, then suddenly, a shit storm lets loose and no clean up crew can be seen for miles. We've been hit with some good news as well as some bad the last two weeks….
Gilbert Ross, M.D. – The American Spectator
Ever since the abominable Family Smoking Prevention and Tobacco Control Act, giving oversight over tobacco to the FDA, was passed in 2009, I and many of my colleagues in public health have watched in disbelief and horror as the crusade against e-cigarettes swung into high gear….
The Vapor Bar
It's been said over and over in our industry. What is going on with the immaturity, lack of interest, deflection and immorality in the e-cig industry? We could not have written an instruction manual better for destruction if we tried. If we don't wake up now and do something about it, it will be as disastrous as it is said to be and the only place we have to look, is in the mirror….