In the News 25th Feb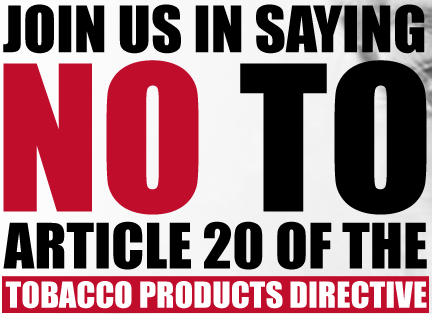 Wednesdays News at a glance –
The Misbegotten Crusade Against E-Cigarettes …. A Test For Democracy …. Tobacco Control: Fascism's Trojan Horse …. SRNT Annual Meeting: Brought to You by Pfizer …. 9 reasons vapers are a threat to the fabric of society …. Nicotine Science and Policy – Daily Digest – Wed, 25 February 2015
Michael Siegel writes in the Wall St. Journal:
When electronic cigarettes came to the U.S. about 2007, I was skeptical. My assumption was they were a ploy by the tobacco industry to hook more people into smoking under the guise of being a safer product—the notorious low-tar cigarette scam all over again. But as I talked to many e-cigarette users, known as "vapers," conducted research (Journal of Public Health Policy, 2011) and reviewed a growing body of scientific evidence, I became convinced that e-cigarettes have dramatic potential for reducing disease and death caused by smoking….
Dick Puddlecote guests on Article 20 Legal Challenge:
Once upon a time, a long long time ago – when Luton Town were capable of beating Arsenal, Hello!magazine was in its infancy, and Rick Astley was still considered cool – I lived in a pub. Not what we would now call a 'pub', of course – if you ordered a coffee back then, someone went and boiled the kettle and we didn't serve breakfast or hold a weekly crèche – but a pub nonetheless…..
More from DP:
This is the evil place that tobacco control and its hideous acolytes inhabit. They go through their self-enriching lives viewing everything through the prism of hatred of tobacco, while not recognising the potentially disastrous precedents they are setting. Blacklisting lawyers for representing companies exercising their right – in a supposedly civilised free country – to hold politicians to account through the impartial legal system surely has to be a new low….
According to the 2015 meeting program, a  major purpose of the conference is: "Through scientific exchange, integrate current research with implications for clinical practice." Specifically, a major focus of the conference is discussing recommendations for the treatment of smoking addiction, including the use of drugs such as Chantix and newer alternatives such as electronic cigarettes…..
Harmless fun or looking for trouble?
Vapers are fond of arguing online, but we've known for many years that they are incorrigible pedants. In fact, an old Chinese legend says that if you want to confuse a vaper, you should spill a sack of rice in front of them, and they will be unable to move until they have counted each and every grain. Worth bearing in mind….