In the News 24th June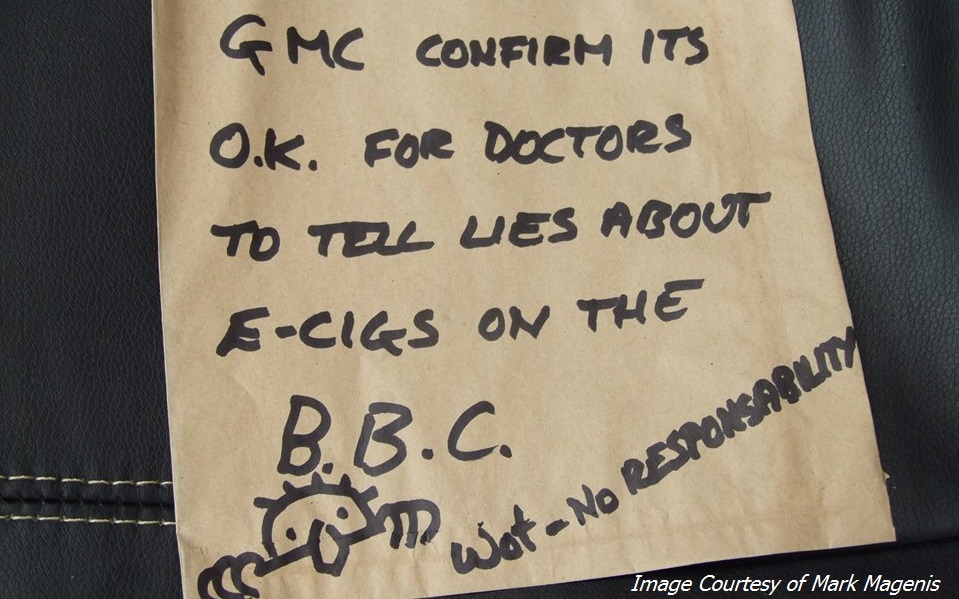 Wednesdays News at  glance:
Vaping, the BMA, and genocide by radio interview – Congressional tactics attempt to derail the FDA's assault on e-cigs – Vaping versus smoking – the case for e-cigarettes – Two Surveys Find That Almost All Regular Vapers Are Smokers – A Must-Read Treatment of the CDC's Campaign of Deception Regarding E-Cigarettes – VTTV NNA Special – Big tobacco launches new cigarettes and claims they "don't burn" – Nicotine Science and Policy – Daily Digest
Fergus Mason – ECigs Plaza
You might remember Andrew Wakefield – formerly Doctor Andrew Wakefield but, of course, not any more. He was struck off by the General Medical Council in 2010, removing his ability to practice medicine in the UK and anywhere that recognises British qualifications. The reason? Fraud. He deliberately told lies about the safety of the MMR (Mumps, Measles and Rubella) vaccine, fuelling the anti-vax crackpots on both sides of the Atlantic and probably contributing to a whole lot of kids becoming very ill – and possibly very dead….
ACSH:
The 2009 law which gave the FDA oversight over tobacco products — the Family Smoking Prevention and Tobacco Control Act (FSPTCA, the TCA) — is one of the worst laws ever enacted. In the guise of reining in the health risks of tobacco products, promulgated to a great extent by the fraudulent, deceptive manipulations of the Big Tobacco companies last century…..
Dubai: Many countries, including the UAE, have banned electronic cigarettes or e-cigarettes but a worldwide survey of 19,441 users in 2014 found it had minimal adverse effects (about 1/100th to 1/20th) compared with smoking. Those who switched to vaping from smoking reported a reduction in harmful effects, with very mild and temporary side effects….
The Rest of the Story: Michael Siegel
Dr. Peter Sandman, an expert in risk communication, has written an outstanding, detailed analysis and evaluation of the CDC's public communications regarding electronic cigarettes, focusing on the agency's communications related to its recent MMWR article reporting a dramatic increase in teen e-cigarette use accompanied by a dramatic decline in teen smoking.
---
---
Reason.Com
American officials who are freaking out about the rising popularity of electronic cigarettes, especially among teenagers, generally fail to distinguish between experimentation and regular use. In fact, as Boston University public health professor Michael Siegel points out, surveys sponsored by the U.S. Centers for Disease Control and Prevention (CDC) do not even ask about frequency of use beyond once or more in the previous month….
It's not the first time they try. Back in 2003 Reynolds Tobacco – the nice guys behind brands like Camel and Pall Mall – launched the ironically named "Eclipse" product. It failed miserably and so they pulled it after a few years. But if there is one thing we know about Big Tobacco, is that they don't give up that easy and –guess what, it's back, with a different name: Revo!