In the News 20th March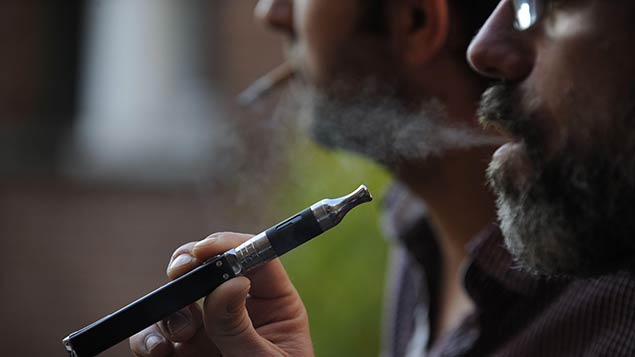 Fridays News at a glance:
Science Lesson: what are vapor, aerosol, particles, liquids, and such? .. Training Journalists To Condemn E-Cigs .. What's really in e-cig vapor? .. ViP Call to Action 21 March 2015  .. New Commentary Argues that Electronic Cigarette Use Can Improve Respiratory Health Among Smokers .. E-cigarette Research Workshops 2015 .. It's War! .. Nicotine Science and Policy – Daily Digest – Fri, 20 March 2015
There is much confusion about states of matter as they relate to e-cigarette "vapor". This post is intended to explain what you need to know about them.

The word "vapor" has become a generally accepted term for "what comes out of an e-cigarette". That means what it means, and that is fine. Common language often takes technical terms and uses them in a way that is "incorrect" if interpreted as if it were the technical term. But this can create confusion….
Eighteen distinguished journalists from 13 countries received fellowships to attend the National Press Foundation's first training focused on global tobacco control. Held this week at the 16th World Conference on Tobacco or Health in Abu Dhabi, the programme offers 2-1/2 days of intensive sessions prepping the journalists to attend the 5-day conference — and cover the issue in their home countries…..
Now before we get too excited – we have to point out that this test was done by an e-cig/tobacco company – but it has been peer reviewed, so we can hope that this is decent research and can't be torn to shreds by those against e-cigarettes….
How you can promote Vaping this week:
1) Downloading the paper signature collection form from the Totally Wicked site and collecting friends, families and colleagues details then sending them to TW. The more signatures they get, the better they can demonstrate that their legal challenge is supported by consumers. Form (and address to post forms to) from this page:http://article20legalchallenge.com/support-the-legal-challenge/

2) They're facing their own challenges in the US, city by city and state by state. The mother of them all though are the FDA Deeming Regs and they need comments! See this page for the link to comment and a guide: https://vapinglinks.wordpress.com/2015/03/16/fda-accepting-public-private-industry-comments-on-e-cigarettes-tobacco-are-you-shrugging-shoulders/

3) Plucky underdog Vince van Heeden (the Australian small vendor refusing to back down for the good of us all) is nearly there! The beauty of crowdfunds is that you don't have to give a large amount, it all quite literally adds up. He's being prosecuted (and being made into a test case) based on a law prohibiting the sale of cigarette sweets! Read more and donate here: http://www.gofundme.com/Ecigs-Our-Right-to-Choose
"Long-term changes in lung function have been monitored for up to 1 year in a large group of 'healthy' smokers who were invited to quit or reduce their tobacco consumption by switching to a first generation EC. Significant early positive changes from baseline of a sensitive measure of obstruction in the more peripheral airways (i.e., forced expiratory flow measured between 25% and 75% of FVC) were already detected at 3 months after switching in those who completely gave up tobacco smoking, with steady progressive improvements being observed also at 6 and 12 months (Polosa R, unpublished observation)."
Cancer Research UK:
E-cigarettes are a contentious public health issue with different views expressed about any positive or negative consequences of their use. It is vital that scientific research is under taken to provide further evidence about these products….
According to the Parliament Magazine, MEPs have declared war on tobacco firms. Amusingly the cross-party group is to combat "growing" influence, ignoring that it is already endemic. Gilles Pargneaux, who put the group together, said: "Our main focus is to make sure the tobacco products directive is implemented in all member states," which is sure to have the likes of Phillip Morris quaking. This is the same Phillip Morris company that gives €1.9billion a year to the European Union….