In the News 16th June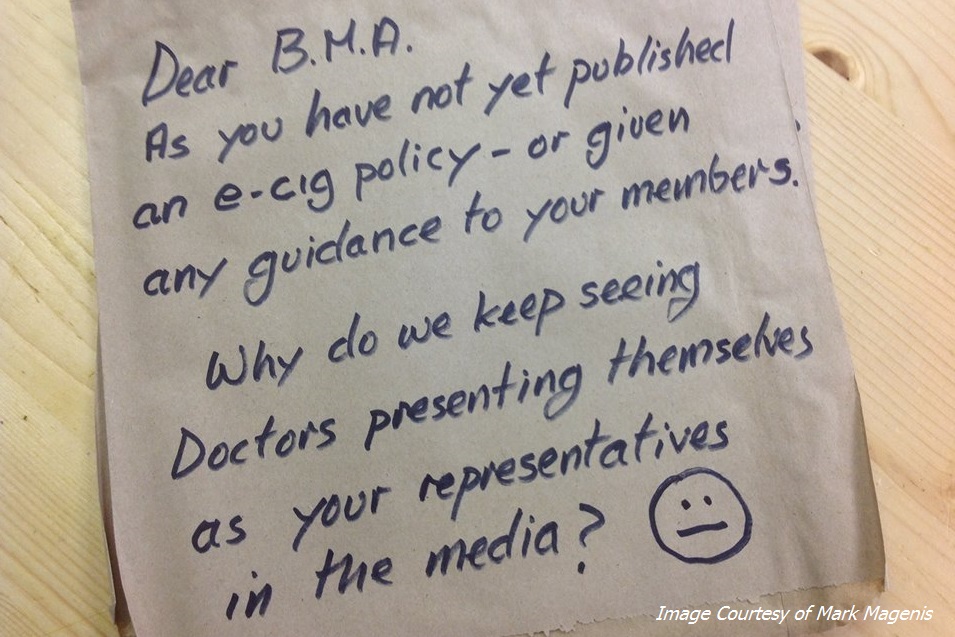 Tuesdays News at a glance:
GFN 2015 – E-Cigarette Opponents & Quacks – Now Officially The Same People – Europeans Say Tobacco Control Is Wasting Our Taxes – Past, present or future? – Anti-tobacco activists in India supporting a ban on e-cigarettes: a position endangering public health – Research shows most children do not regularly use e-cigarettes – QUIT's Position on E-Cigarettes – Would nicotine e-cigs work as quit aids in NZ? – Nicotine Science and Policy – Daily Digest
Save E-Cigs:
This is the second year the GFN has been held and the second year in the lovely City of Warsaw. This year it attracted more delegates, and dare I say it a few more of the big guns, which reflects the importance that this conference is gaining. Hon Lik the inventor of the modern day e-cig was there – (yes, there was much awe in the room when he spoke!) but also Dr Derek Yach, the man who was responsible for leading the Framework Convention on Tobacco Control….
Now Officially The Same People – Fergus Mason
Hot on the heels of yesterday's Australian nutcase claiming there's no scientific data about electronic cigarettes comes yet another clown. This one goes by the name of Dr Healthnut, and his website has the tagline "Not crazy. Just healthy." Dr Healthnut, real name David Nico, has spent most of this afternoon sending a sporadic flow of misleading tweets about e-cigarettes and vaping. Here's a typical example:
Dick Puddlecote:
With business, family and general red mist on other subjects being a diversion of late,  it's taken me a while to get round to this, but it's very revealing. The EU released a study at the end of May entitled "Attitudes of Europeans towards tobacco and electronic cigarettes". You can read it in full here.
Facts Do Matter:
There is a heck of a lot of things rattling around in my head regarding the ongoing saga in the media about vapour products/e-cigarettes, whatever you wish to call them. Having recently reached a pretty handy milestone in being off combustible tobacco for a year, I've had a look back over the general thread of my vaping life and my participation in activism and advocacy, and I'm trying to understand a few thing.
A position endangering public health – Dr Farsalinos
"E-cigarettes, despite containing liquid nicotine, were being promoted as harmless and non-addictive. However, laboratory analysis proved all these claims to be wrong. They show that users of e-cigarettes were also exposed to carcinogenic chemicals"….
Provided by Cancer Research UK
Children aged 11 to 16 who have never smoked do not regularly use e-cigarettes, according to new Cancer Research UK data being presented today (Friday) at the UK Nicotine and Smoking Cessation Conference and will be published in the journal Nicotine and Tobacco Research ….
QUIT's position on e-cigarettes is that the evidence is that they are much safer than smoking and are proving an important route out of smoking for thousands of smokers. They do not pose a significant risk to bystanders and are not acting as a gateway to smoking in young people. We will continue to monitor the evidence and if the situation changes, we will revise our position. For more information see…..
Scimex:
New Zealand researchers have found that Kiwi smokers using nicotine e-cigarettes for the first time rated them 83 per cent as highly as own-brand tobacco for liking and satisfaction and that females tended to rate them more highly than males. The authors say that their findings suggest that e-cigarettes that contain nicotine – currently not available in New Zealand – may be useful for nicotine replacement therapy with female smokers….