In the News 13th November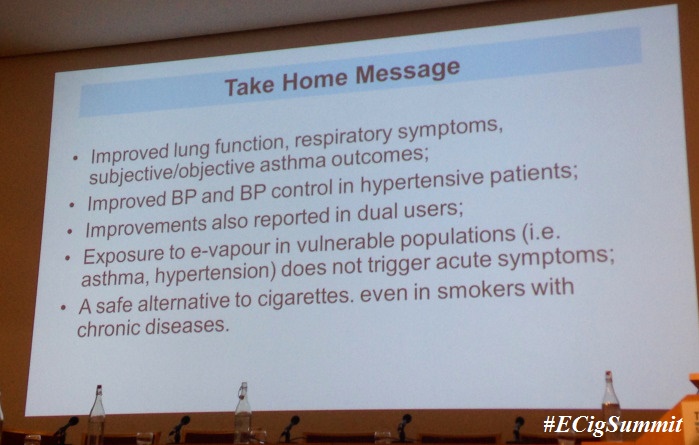 Fridays News at a glance:
Stakeholders – This Charming Man – Response to Professor Chapman's blog about my views on e-cigarettes – E-Cigarette Summit: The Debate Goes On – Photos and Quotes – Life and times of a dedicated smoker – The FDA may soon be able to vaporize e-cigarette products – Nicotine Science and Policy – Daily Digest – Fri, 13 November 2015
Alan Beard – Why Oh Why
As is usual,this was prompted by a Twitter/Facebook exchange or commentary. In this case it was a reference to the #ecigsummit held on 12th November 2015 and a slide shown by a spokesperson from the UK Department of Health.

Stakeholders were listed on the slide, perplexingly, but all to commonly the most important key stakeholders were omitted :-CONSUMERS….
Mawsley – Planet of the Vapes
Richard Smith should command the respect of his peers. He has been a successful medical practitioner and stands tall in his opposition to corrupt practices of the pharmaceutical industry. As the ex-editor of the British Medical Journal (BMJ) he continues to act as a voice for common sense and strives to promote open access publishing…
About my views on e-cigarettes – Clive Bates
Professor Simon Chapman of the University of Sydney has used his BMJ blog platform to mount a quite personalised attack on my views on e-cigarettes drawing bizarre conclusions from imagined inconsistencies in statements I made about completely different things separated by 15 years and a lot of change. I've submitted a comment to the BMJ, but for all I know it will be held in moderation for days while the blog is circulating freely. So here is a copy of my attempt at a dignified response.
---
The third annual E-Cigarette Summit took place at the Royal Society in London on the 12th November 2015 and  provided an evidence based perspective on the public health issues raised by the growing popularity of e-cigarettes. Here is a collection of reports from the event –
Facts Do Matter:
"Much has changed since we ran the inaugural Summit in 2013, when calls for medicinal licensing and outright bans on e-cigarettes were dominant".

Reading that in the introduction and welcoming statement in the e-cigarette summit programme highlights, at least in the UK, just how far things have come. When you have the likes of Professor Ann McNeill, Professor Robert West, Professor Linda Bauld, Professor Marcus Munafò, Dr Konstantinos Farsalinos, Professor John Britton, Professor Peter Hajek, Professor Ricardo Polosa talking about e-cigarettes folk sit up and listen….
UKCTAS
Here are some images of some important slides from various presentations at yesterday's E-cigarette Summit.

Many interesting points were raised and I recommend everyone to watch the sessions when they're made available online.
Ashtray Blog
This year saw a hectic pace, with more speakers and more content in the same amount of time. Konstantinos alone had over 50 slides in a (theoretical!) 20 minutes.

So this time round, I've chosen just to highlight key points, quotes and data. If you need more, do monitor the E-Cig Summit website – slides and videos should be up soon…
Vape Emporium Blog
On Thursday 12th November The Royal Society in London hosted the 3rd annual E-Cigarette Summit for Science Regulation and Public Health. There were a host of great speakers at the event which was chaired by Professor Ann McNeill who lead the PHE report earlier this year that stated 'vaping is 95% less harmful than smoking'…
---
Simon Clark – Taking Liberties
I am not proud of the fact that I began smoking so young, but I don't regret it either. It is a fact of life that some children will smoke whether we like it or not and it is certainly ingrained in my culture as much as in anyone else's religion, race or class…
The recent rise in popularity of e-cigarettes has become a new source of worry for parents of teenagers, but upcoming federal regulations could make them less available than tobacco cigarettes.

Vapor retail sales are expected to reach $3.5 billion this year, according to Wells Fargo WFC, -0.02% with e-cigarette sales making up $1.5 billion and other larger and custom vaporizing devices accounting for $2 billion in sales…