Waging War on E-Cigs
 
Big Pharma, not tobacco companies, wages war on electronic cigarettes
Originally published in the Washington Examiner 19th nov. 2014 and can be viewed here
"Electronic cigarettes give smokers a nicotine fix without the stink, tar, fire or carbon monoxide of real cigarettes. They may be a cheap, healthy way to help smokers quit.
So, I'll give you three guesses which industry is behind the global push to clamp down on e-cigarettes.
If you assumed concerned doctors or "consumer-rights advocates" are the driving force for regulation in Europe and the U.S., then you haven't been paying attention to way profit and politics interact.
If you said Big Tobacco, close, but no cigar. Philip Morris, R.J. Reynolds, and Lorrillard all jumped in the e-cig game in the past two years. They're not opposing regulation (the big guys rarely do), but they're pushing back on the most onerous rules.
Big Pharma is the real foe of e-cigs, and Big Government is their weapon of choice — on both sides of the pond.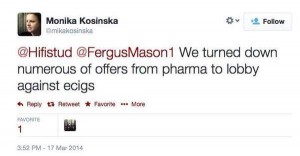 This fall, the European Parliament considered new rules regulating e-cigs. E-cigarette manufacturers, of course, lobbied like crazy to block the proposal, and it seems they won. But the drugmakers fought for stricter regulations, for obvious reasons: E-cigarettes compete with prescription drugs that are supposed to help people stop smoking.
GlaxoSmithKline sells Nicorette gum and Johnson & Johnson manufactures nicotine patches. The New York Times reported these companies helped lead "strong opposition" to e-cigarettes.
In the U.S., the Food and Drug Administration is about to announce new proposed rules on e-cigarettes. Big Pharma's shadow hangs over the rule-making.
No industry spends more on lobbying in the U.S. than the drug industry, and drugmakers' agendas are often bigger government. Without the efforts of the drug lobby, for instance, Obamacare probably would have died in the summer of 2009. President George W. Bush's single biggest expansion of government was creating the Medicare prescription drug benefit — at the behest of the drugmakers.
Fittingly, as Democrats advocated federal regulation of tobacco last decade, the drug industry applauded. Congressional Democrats and President Obama pretended their fight to regulate tobacco was a battle against the special-interest lobbyists. This was dishonest pablum (for one thing, Philip Morris supported the regulation). But aside from the politicians' dishonesty, the drugmakers' position was fairly unobjectionable to smoking opponents: If smoking is bad, and Glaxo's products help people stop smoking, what's wrong with Glaxo lobbying against cigarettes?
But now, Glaxo and colleagues are lobbying against other tools smokers could use to quit — and the Obama administration is again walking hand-in-hand with Big Pharma.
To head the Food and Drug Administration's Center for Tobacco Products — the entity quarterbacking regulation of e-cigarettes — Obama named former lobbyist Mitch Zeller, whose consulting clients have included drug companies like GlaxoSmithKline.
When Obama signed tobacco regulation legislation in 2009, Zeller was a special White House guest in the Rose Garden. In a 2009 journal article, Zeller disclosed that he "provides consulting support to GlaxoSmithKline Consumer Health through Pinney Associates on an exclusive basis on issues related to tobacco dependence treatment."
Now this pharma consultant has regulatory authority over competing products, including e-cigarettes.
Federal regulators and "consumer health groups" argue that e-cigs are untested. Some even claim that they are clearly dangerous. Basically, e-cigs deliver vaporized nicotine. Nicotine is the addictive element in cigarettes, but there's no evidence that nicotine itself is harmful — it's the other ingredients in cigarettes that are established as dangerous.
"The alarmist concerns raised by the drug companies are understandable," Dr. Gilbert Ross of the American Council on Science and Health told me, "because they're rent-seeking." Rent-seeking is a term in economics for seeking to profit through public policy without creating economic value.
Ross told the Winston-Salem Journal that Zeller "has been in the business of promoting FDA-approved traditional NRT [nicotine replacement therapy] products, while (not surprisingly) he has been in the forefront of opposing consideration of alternative cessation products such as snus and e-cigarettes."
Snus is an oral tobacco product that is less healthy than avoiding tobacco, but more healthy than smoking. Snus has also had to run through the Pharma-FDA gauntlet.
Obama's 2009 tobacco law created a Tobacco Products Scientific Advisory Committee, which is reviewing the safety of oral tobacco products. One voting member of TPSAC was Jack Henningfield, who happens to own a patent in a "chewing gum delivery system" for nicotine along with John M. Pinney, founder of the consulting firm that employed Zeller — now the top regulator of tobacco products.
This is how regulation happens in Washington. It's not a matter of disinterested public servants standing up to big business; it's one industry against another. And so the question on electronic cigarettes comes down to this: Can the e-cig makers beat the drugmakers?"
Timothy P. Carney, the Washington Examiner's senior political columnist, can be contacted at tcarney@washingtonexaminer.com. His column appears Sunday and Wednesday on washingtonexaminer.com