Vapers Digest 9th August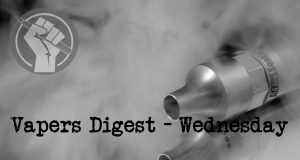 Wednesday's News at a glance:
Global Forum on Nicotine
This interactive session depends on your stories and memories, as we create an oral history of tobacco harm reduction. Please come ready to share your experiences! Following a 'chat-show' format, we'll look back on the rapid development and acceptance of tobacco harm reduction as a key public health strategy over the past decade. Key moments and events that have driven or impeded progress will be illustrated by short video clips from our archives. Our host, Clive Bates, will seek testimony from you, the GFN audience – because so many of you have been directly involved in and integral to tobacco harm reduction's development. Summing up the discussion, Clive will identify key points that might influence or impact the future of the approach, at this tenth anniversary edition of the Global Forum on Nicotine.
COPWatch
The one where the WHO denies quitting smoking is quitting smoking, and other daydreaming

In the first Copwatch guide to documents being provided to 'educate' national delegations at the COP10 conference in November, let us look at FCTC/COP/10/7, published on 1st August.

This is the third report on articles 9 and 10 ((Regulation of contents and disclosure of tobacco products, including waterpipe, smokeless tobacco and heated tobacco products). You can read the document on the FCTC website to confirm our quotations below.
Martin Cullip, DC Journal
The World Health Organization was once implacably opposed to harm reduction related to drug use, instead preaching abstinence as the only policy approach. It was steadfastly resistant to the practice of needle/syringe exchange programs to reduce infection. Today, the WHO website has a page extolling these programs' benefits to public health. It states, "the risk of transmission of HIV is mainly linked to the injection of drugs." Yet, the WHO once not only dismissed needle/syringe programs to control HIV but campaigned against them.
---
Four From Dave Cross, Planet Of The Vapes
A tobacco harm reduction campaigner has called for Government regulation of nicotine pouches to protect children – and further slash smoking rates in the UK. In a hand-delivered letter to the Department of Health, Considerate Pouchers UK director Richard Crosby explained the move would quicken the demise of cigarettes and add weight to Westminster's Swap to Stop vaping initiative.
The World Vaper's Alliance has slammed the World Health Organization's new publication claiming to examine the evidence surrounding vaping. The WVA says the publication of the WHO's 'The global tobacco epidemic' report, "once again discounts the powerful impact of harm reduction and vaping, reaffirming WHO's adversarial stance against it".
Action on Smoking and Health (ASH) has spoken out to counter misinformation as latest findings show four in ten smokers wrongly believe that vaping is as or more harmful as smoking. The latest ASH annual survey data also shows that in 2023 1.8 million smokers have never tried vaping and 2.9 million smokers have tried vaping but stopped.
Labour's Rachael Maskell has inundated Conservative Ministers with a plethora of questions about vaping and tobacco harm reduction. In fact, so many questions that we've had to split them into two huge articles. This first one sees her firing queries at the Department for Health and Social Care with Under-Secretary Neil O'Brien providing the responses.
---

---
---

---
---
Visit Nicotine Science & Policy for more News from around the World

---