Vapers Digest 8th June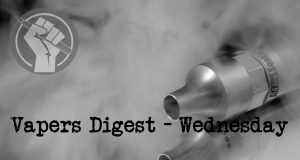 Wednesday's News at a glance:
The Right to Health Means the Right to Tobacco Harm Reduction ~ The WHO is using Big Tobacco's playbook to mislead smokers worldwide ~ Vaping Saved My Life experiment among eight participants sees all stop smoking after 90 days ~  French expert says nicotine does not cause cancer, asks Filipino doctors to consider smoke-free alternatives ~ Vaping nicotine highly unlikely to cause seizures ~ INNCO Weekly Issue ~ Leading Global Brands Act to Help Vulnerable Smokers Across The UK ~ WHO Updates Ecig Q & A ~ WNTD sCOPe22 Update ~ Healthy Outcomes | Switching to Nicotine Vapes Improves Well-being ~ The Canadian Vaping Association: THR should play a role in Canada's Tobacco Endgame strategy ~ The Canadian Vaping Association: Flavours in vaping products are instrumental in helping adults quit smoking ~ Menthol Bans — Same Story, Different Flavor ~ 'Smoking rates rise in pandemic' – Role of vaping
Gerry Stimson, Filter Magazine
A brutal culture war is raging on the role of harm reduction to hasten the end of smoking. But as the Twitterstorms rumble on, the evidence is mounting that safer nicotine products—vapes, pouches, snus and heated tobacco—are helping millions of people around the world switch away from combustible cigarettes and other risky tobacco use.
Martin Cullip, The Center Square
Tobacco control activists like to point to a 1969 internal memo at the now-defunct Brown & Williamson Tobacco Corporation that put forth a strategy to counter the then-increasing wealth of evidence linking smoking with disease. Their plan was simple, they would work to mislead the public, with the memo urging employees to use doubt as "the means of establishing a controversy."
---
Betty Moleya, IOL
The South African economy would benefit significantly from an inclusive harm reduction strategy that drove economic transformation, Asanda Gcoyi, the CEO of Vapour Products Association of South Africa, said.

Gcoyi said this would drive transformation by introducing policies that would deal with the country's multiple socio-economic imbalances, starting with fair vaping industry regulations, and acknowledging vaping as a less harmful alternative to cigarettes.
---
Manila Bulletin
A leading cancer expert said nicotine is not the cause of cancer and encouraged Filipino medical professionals to consider less harmful smoke-free products as a strategy in the fight against smoking-related diseases in the Philippines.

"If you want to reduce exposure to carcinogens, you must identify the nature, production and exposure source of carcinogens," said Dr. David Khayat during a virtual presentation before members of the Philippine Medical Association.
Dr. Colin Mendelsohn, colinmendelsohn.com.au
LAST WEEK the media was awash with breathless reports of a Sydney student who collapsed in the school toilets and had a seizure (convulsion) while vaping. But was vaping nicotine the cause of this worrying event? Probably not.

There is no evidence that nicotine vaping causes seizures. The fact that a seizure occurred while vaping does not prove that vaping was the cause.
International Network of Consumer Organizations (INNCO)
Weekly Issue | Jun 6th, 2022

"So here we are: @WHO is now giving awards to govt leaders who embrace policies that 15 past-Presidents of the Society for Research on Nicotine and Tobacco oppose."

Hi Dear Friends,

It's always a pleasure to greet you. Next week we are having our General Assembly (GA) and we are excited to be with those who will have the chance to join physically, it's genuinely great to be together in person. For those INNCO members that won't be able to assist the GA and GFN, please join us virtually because we are going to be talking about relevant topics to everyone and definitely we will like your input.
---
Doc on @CNN lies to public about vaping risk for "popcorn lung" & "chemically manufactured nicotine," implying that it's more addictive than "natural" nicotine. No causal link has been made between vaping/popcorn lung & nicotine is the same chemical whether lab-made or extracted. https://t.co/RGDOGtcb0H

— CASAA (@CASAAmedia) June 7, 2022
---
Michelle (Purplefowler), Planet of the Vapes
Vaping technology has the power to create positive change and today two of the world's leading vape businesses have announced a new initiative to help the homeless community.

Both Innokin and Dinner Lady, which are known for manufacturing vaping devices and e-liquid, have teamed up with Simon Community Scotland, to provide the outreach charity with hundreds of new vaping starter kits.
Two from Dave Cross, Planet of the Vapes
The World Health Organisation (WHO) has updated its 'Q & A' on electronic cigarettes and vaping but still shows that it is the sock puppet for billionaire Michael Bloomberg and corrupted by his cash. The advice was updated on 25 May 2022 and falls at the first hurdle where it describes e-cigarettes as tobacco.
The sCOPe22 broadcast united global tobacco harm reduction advocates ahead of COP10. The event attracted a global audience via multiple platforms. People tuned into watch sCOPe's two-day broadcast during the recent World Vape (WVD) and World No Tobacco days (WNTD).
---

---
---

---
To Protect Public Health? – Jacob Sullum
During an April 2 interview with Chris Wallace on Fox News, Surgeon General Jerome Adams compared deaths caused by COVID-19 to deaths caused by smoking and drug abuse. "More people will die, even in the worst projections, from cigarette smoking in this country than are going to die from coronavirus this year," he said.

Wallace questioned the analogy. "Dr. Adams," he said, "there's a big difference between opioids and cigarettes, which are something that people decide to use or not to use, [and] the coronavirus, which people catch. It's not an individual choice."
At Olten Help Center – Philippe Poirson
Launched at the end of December 2018 , the smoking cessation program using vaping in Olten, in the canton of Solothurn, is a success. Despite attacks by the local Lung League, backstage pressure and multiple fear campaigns against vaping in the media, the Addiction Help Center was able to help hundreds of participants from this city of 18,000. These people received advice with regular appointments to follow up on, as well as free vaping materials and liquids. "Among those who had the clear objective of quitting smoking, 17.5% succeeded," says Reno Sami, of SuchtHilfe Ost (SHO) .
---
Visit Nicotine Science & Policy for more News from around the World

---