Vapers Digest 30th October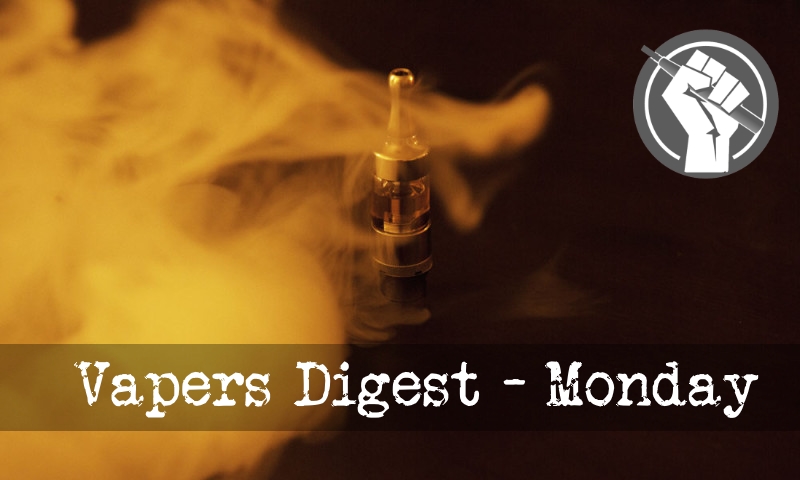 Monday's News at a glance:
Vape Shops Threatened with Lawsuits – Unpacking National Vaping Statistics – Parliament – Trashed Cigarette Packs Highlight Failure – Nicotine vs. Caffeine: – Unintended Consequences | Perils of Flavor Bans & Vape Taxes – What Can India Learn From Sweden? – Illicit Trade – RRPs: The US – Report Raises Concerns About EU Transparency

For Selling "Ice" Products – Jim McDonald
A company best known for selling hookah products is sending cease-and-desist letters to vape shops, threatening to take legal action for selling products that use the name "Ice." California-based Fantasia Distribution is also involved in two lawsuits charging several vape manufacturers with infringing Fantasia's trademark.

In multiple social media posts, vape shop owners have described receiving letters from lawyers representing Fantasia, threatening to take legal action if owners don't meet Fantasia's demands. Some have reported phone calls with Fantasia's lawyers during which offers were made to settle any future Fantasia claims for cash payments of $5,000 or less, though Vaping360 hasn't confirmed those offers.
Jeff Smith, Annie Kleykamp, Cheryl K. Olson, Brad Rodu
Now, with nearly 10 years of data and science behind us, what is the real truth about vaping? In this session, our experts will share what the data actually tell us about the potential of reduced-risk ENDS products and how they can help prevent the nearly 500,000 smoking-related deaths that occur in the United States each year.

Join us for an online discussion about what we know (and don't know) about ENDS use in the United States, what the data say about the future of harm reduction efforts, and how appropriate oversight of the ENDS marketplace and effective communication of the data can save thousands of lives.
---

---
About EU Transparency – Dave Cross, Planet of the Vapes
A recent report raises alarming concerns over the transparency and inclusivity of the forthcoming COP10 meeting for the World Health Organization's Framework Convention on Tobacco Control, says the World Vapers' Alliance. Seven EU member states have expressed significant reservations regarding their diminished roles and the Commission's deviation from established practices.

Michael Landl, Director of the World Vapers' Alliance, stated: "It's deeply concerning that such pivotal discussions affecting millions of vapers and smokers across the EU might not reflect all member states' diverse views and interests. The Commission's evident anti-harm reduction stance starkly contrasts several member states that have been more progressive and successful with their harm reduction policies. These nations deserve to have their voices amplified and heard."
Dave Cross, Planet of the Vapes
Mary Glindon MP, Gregory Campbell MP, and Catherine West MP provide this week's scintillating questions about vaping, vapes and tobacco harm reduction in Parliament. Topics covered included fining the bad retailers, banning things (because prohibition always works), the health impact of vaping, and recycling single-use ecig products.

Labour's Mary Glindon asked the Secretary of State for Health and Social Care a stream of questions:
---
---
Of California's Flavor Ban – Lindsey Stroud
Last year, California voters passed Proposition 31—banning the retail sale of flavored tobacco and vaping products, including menthol. Overnight, one-third of the Golden State's nicotine consumers were left with a stark choice: quitting their preferred products or seeking them through the illicit market.

New data suggest it's pretty clear which way they went. And it should make sobering reading for the Food and Drug Administration, which presses on with its plan for a national menthol cigarettes ban while refusing to authorize any menthol (or flavored) vaping products.

What are the similarities and differences between them?
Nicotine and Caffeine often show up together, not only in familiar TV or movie scenes but also in real life. It is a part of daily life for many smokers to start a new day with a cup of coffee and a cigarette.

Caffeine and nicotine have common characteristics, such as making people feel good and alert, and getting them hooked, so they are often compared with each other. Some people even think that nicotine is as benign as Caffeine.

So, are these two products really comparable? What are the similarities and differences between the two?
---

---
Perils of Flavor Bans & Vape Taxes | RegWatch
When using a nicotine vape to quit smoking or to stay quit, flavors are essential. They provide endless opportunities to tailor the vaping experience to personal taste.

Without flavors, vaping becomes less viable as a tool to quit smoking. Yet public health and anti-vaping groups push flavor bans and flavor restrictions in jurisdictions across North America. But at what cost?

From Sweden's Pragmatic Tobacco Control Policy?
Sweden is a proof that a pragmatic tobacco control policy allowing consumers to transition to far less dangerous tobacco alternatives could save many lives in India

Two decades ago, the WHO's scientific advisers recommended against the use of smokefree tobacco as a strategy to reduce harm for smokers who won't stop. They argued that the benefits have not been demonstrated, while the potential for harm remains, stating that a "lower risk of adverse health outcomes is achieved by reducing smoking and not by substituting with an alternative.
Tobacco Insider
In Q3 2023 earnings release, Altria – for the first time – stated that there is more cross-category movement (from cigarettes to e-vapor) than previously assumed and the growth of illicit flavored disposable e-cigarettes contributed to cigarette volume declines in the range of 1.5% to 2.5% over the last 12 months. BAT has long been voicing concerns about the illicit e-cigarette sales; however, BAT's concerns were focused around the unfair competition against its VUSE brand (the distant e-vapor category leader in the traditional retail). BAT has never went that far to clearly (numerically) associate illicit e-cigarette trade with the decline of its cigarette volume; probably, because it is a tricky path to take.
---
A look back at how things have moved on or otherwise…
Shows It Is Not a Science-Based Agency – Martin Cullip
On October 26, the Food and Drug Administration (FDA) issued its first market denial orders for menthol vaping products. Its justification for the decision was "the application does not demonstrate that these menthol-flavored e-cigarettes are more effective in promoting complete switching or significant cigarette use reduction relative to tobacco-flavored e-cigarettes among adult smokers."

This is yet another surprise sprung on manufacturers who believed that the FDA would make decisions based on science rather than moral panic and political disquiet. When businesses applied for authorization for their products, there was no indication that the FDA required non-tobacco flavors to be more efficacious than tobacco flavor for helping adult smokers quit.
Bella McShane – BBC News
Health campaigners are calling for a loophole to be closed that allows a nicotine product to be sold over the counter and online to under-18s.

Nicotine pouches – small parcels of nicotine that fit under the lip – are sold in most UK supermarkets.

But while the sale of cigarettes and e-cigarettes is forbidden to under-18s, pouches are not regulated in the same way.

Action on Smoking and Health (Ash) says the lack of rules is a "Wild West". Nicotine pouches are not regulated under rules that cover tobacco or vaping products, or as a medical product.
---
Visit Nicotine Science & Policy for more News from around the World

---