Vapers Digest 2nd November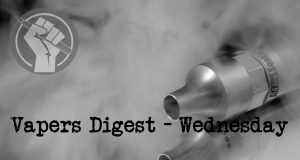 Wednesday's News at a glance:
The Alternative Smoke-Free 2030 Plan ~ Responsive Policymaking For Achieving India's Tobacco Control Goals ~ An Open Letter: SA smokers looking to quit will suffer if Parliament passes baseless regulations ~ INNCO: Weekly Issue ~ Is vaping safe? Why UK scientists are calling new research on the effects of e-cigarettes 'irresponsible' ~ Administrative Acts of Healthcare Crime ~ FDA Enlists Help from the DOJ ~ Focus should be on vapes accessibility rather than cigarette bans says think tank ~ The Stigmatization of Smoking Is Not Harm Reduction ~ VPZ's Action Call ~ ETHRA to Belgium ~ House of Lords E-cig Briefing ~ The real impacts of vaping… you may be surprised! ~ The PMTA Mystery ~ Moving Backward ~ Choosing Wisely ~ Perceptions of Nicotine ~ Comments in FDA Assessment Suggest Agency in Disarray ~ ETHRA October news roundup
Innco
Hi Dear Friends,

It's always a pleasure to greet you. If you missed the Asia Harm Reduction Forum 2022 you can watch the replay here.

This week we upload a video from Dr. Wasim from Norway on our YouTube Channel, if you want to check the video out, you can do it here.

If you haven't got the chance to fill out the survey forwarded by Charles Gardner, consider doing so, because we definitely need as many responses as possible. please we need your support.
---
Various groups at the Asia Harm Reduction Forum 2022 are promoting the use of vape and other electronic devices as safer ways of smoking. According to advocates, there are many ways to quit smoking and the information is now available online.
IBC Tutok
---
Jay K Joshi, Daily Remedy
Public perception is a funny thing. It's an illusion we all see, know full well it's an illusion, and we accept it. Through public perception, lies become truths and opinions become law.

"I'm fully aware of the misperceptions that are out there and aren't consistent with the known science. We do know that e-cigarettes — as a general class — have markedly less risk than a combustible cigarette product. That said, I think it's very critical that we inform any communication campaigns using science and evidence. It has to be very carefully thought out to ensure that we're maximizing impact and avoiding unintended consequences."
Allison Boughner, World Vapers' Alliance
The war on vaping and the attacks on small vape shops merely trying to keep their customers smoke free has taken a shocking turn as the FDA enlists help from the DOJ to go after 6 small vape shops.

The Biden administration is suing six shops after the companies ignored warning about their illegal products. The agency announced a joint press release with the DOJ this past Tuesday, October 18th 2022.
---
THREE from

Dave Cross, Planet of the Vapes
VPZ, the UK's largest vaping retailer, has called for a national vaping policy to help the Scottish Government reach its 2034 smoke-free ambitions. VPZ aims to help more people quit smoking through vaping and is urging the Government to introduce greater licensing and controls for selling vaping products.
European end user campaign body ETHRA (European Tobacco Harm Reduction Advocates) have sent a letter to the Belgian government stressing "the important role safer nicotine products can play in its upcoming inter-federal strategy for a smokefree generation." The letter was co-signed by 19 independent experts in tobacco and nicotine science and policy.
The House of Lords Library has published an impartial, authoritative document to Members of the House of Lords about teens and vaping to support them with their parliamentary work. It is an essential overview of the topic, its progress in Parliament, and recent developments, to help them engage with business in the Chamber.
---

---
Murray Jones, 4CA AM
This week as part of our Wellness Tuesday, I caught up with Dr Colin Mendelsohn about the emerging black market for vaping products. There are certainly a lot of myths around the impacts of vaping, but most interestingly, what was designed as a product to help adults quit smoking has been hijacked from many quarters.
---

---
Five from

Tobacco Reporter
Neil McKeganey
If there is one thing that you can say about the U.S. Food and Drug Administration's premarket tobacco product application (PMTA) process, it is that it is exceedingly data heavy. E-cigarette manufacturers' submissions under the PMTA process can run to the thousands of pages, reporting the results of research costing millions of dollars. To receive a marketing authorization, e-cigarette manufacturers have to be able to show that their product is "appropriate for the protection of the public health" (APPH).
Stefanie Rossel
In mid-May, a shockwave hit Spain's vaping industry: The government presented a bill that would end the independent domestic vaping sector. The proposal calls for limiting vapor product sales to state-owned tobacconist shops within five years. Specialized vape shops can stay in business only if they transition into licensed tobacconists—a step that would oblige them to sell combustible products as well. The bill would also ban online sales of vape products.
Cheryl K. Olson and Willie McKinney
Like many people who smoke, Doug Halterman wanted to quit. "I tried other ways, even prescription drugs, and nothing worked." When he decided to try vaping, "At first, it was a research and development stage. I had to figure out what ones best acted like a cigarette," he recalled. "I started with menthol tobacco. I then liked the fruit flavors because it helped stay clear of cigarettes. After vaping fruity flavors, cigs tasted absolutely disgusting."
Participants in "The Perceptions of Nicotine" panel during the GTNF 2022, held in Washington, D.C., in September, began the conversation by drawing comparisons to similar consumer products, most notably caffeine. Nicotine is found in tobacco leaves, but it's also found, at lower levels, in plants, such as tomatoes, potatoes, eggplants and sweet peppers. However, by far its predominant source is in tobacco leaves.
The U.S. Food and Drug Administration is in disarray and influenced by outside forces rather than scientific research, according to several comments submitted to the Reagan-Udall assessment of the performance of the FDA's Center for Tobacco Products (CTP).
ETHRA
ETHRA's monthly roundup of news: Belgium & Spain, experts weigh in – Prohibition fuelling black market – MEPs debate THR – SOVAPE survey – The substitution effect – The Manila Declaration 2022 – Country updates. Read on for more.
---
Visit Nicotine Science & Policy for more News from around the World

---