Vapers Digest 25th January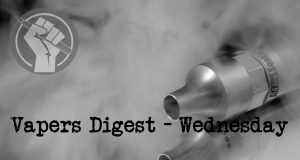 Wednesday's News at a glance:
FDA needs a new approach to e-cigarettes and other safer alternatives to traditional cigarettes ~ FDA Denies Marketing of Two Vuse Menthol E-Cigarette Products Following Determination They Do Not Meet Public Health Standard ~ Taiwan Is About to Ban the Use of Nicotine Vapes ~ An Open letter to US billionaire Mike Bloomberg ~ Illicit Vape Threat ~ Could Scotland Ban Disposables? ~ Survey of Consumer Organisations ~ FDA Rejects Menthol Refills for Vuse Vibe and Ciro ~ GFN News Episode #38 | NICOTINE UNDER FIRE IN AUSTRALIA | Featuring Dr Colin Mendelsohn ~ Interview with Neil Mitchell, 3AW Melbourne, 25 January 2023
Guy Bentley, Reason Foundation
Last month, the Reagan-Udall Foundation delivered a damning review of the Food and Drug Administration's (FDA) performance as a tobacco regulator. Reagan-Udall, an independent body responsible for helping the FDA advance its mission, was tasked by FDA Commissioner Robert Califf with investigating what is going wrong at the agency after a series of embarrassing missteps concerning the regulation of safer nicotine alternatives, like e-cigarettes, to traditional cigarettes. Reagan-Udall convened an expert panel and received input from an array of stakeholders and scholars, including Michelle Minton, a senior fellow at Reason Foundation.
U.S. Food and Drug Administration
Today, the U.S. Food and Drug Administration issued marketing denial orders (MDOs) for two menthol e-cigarette products currently marketed by R.J. Reynolds Vapor Company. The currently marketed products include the Vuse Vibe Tank Menthol 3.0% and the Vuse Ciro Cartridge Menthol 1.5%. The company must not market or distribute these products in the U.S. or they risk FDA enforcement action. The company may resubmit applications or submit new applications to address the deficiencies for the products that are subject to these MDOs.
---
Australia's prescription-only model for #vaping has been an embarrassing failure but @ama_media wants further restrictions which will

➡️fuel the black market
➡️reduce adult access
➡️increase youth vaping
➡️lead to more smoking

My interview on @GFNTV ➡️https://t.co/vTzKcaXTw2 pic.twitter.com/YVjFmRKBha

— Colin Mendelsohn (@ColinMendelsohn) January 24, 2023
---
Samrat Chowdhery, Filter Magazine
Taiwan looks set to become the next country in Asia to ban nicotine vaping products.

On January 12, amendments to the Tobacco Hazards Prevention Act effectively cleared the legislative floor. Now, the legislation only awaits a presidential nod—a formality given that President Tsai Ing-wen is from the ruling Democratic Progressive Party that proposed it.
Charles A. Gardner, INNCO, Medium
Dear Mike,

In 1988, Larry Kramer, a noted playwright and fierce advocate for People Living with HIV/AIDS, wrote an open letter to Dr. Anthony Fauci, then Director of the US National Institute of Allergy and Infectious diseases (NIAID). Kramer's letter was published in dozens of major US newspapers. In it, he called Fauci a murderer. This open letter to you, Mike Bloomberg, is inspired by that letter.

Consider the tone of Kramer's open letter to Fauci: "I have been screaming at the National Institutes of Health since I first visited your Animal House of Horrors in 1984. I called you monsters then and I called you idiots in my play, The Normal Heart, and now I call you murderers… You are responsible for supervising all government-funded AIDS treatment research programs. In the name of right, you make decisions that cost the lives of others. I call that murder."
---
Three from Dave Cross, Planet Of The Vapes
Trading Standards experts were thrust into the media spotlight last week as fears were raised about illicit vapes posing a threat to the High Street. A rise in illicit vapes and underage sales is claimed to have sparked alarm among consumer protection professionals. The sensationalised coverage followed the release of research conducted by the Chartered Trading Standards Institute (CTSI) which stated that "illicit vapes are the products Trading Standards professionals are most concerned about on the UK's high streets."
Could Scotland move to ban disposable vapes? It is a move that is being considered due to pressure from Friends of the Earth Scotland and the Scottish Greens. Dressed up as concern for the environment and a push to get companies to be held accountable, the move is being justified by regurgitating World Health Organisation lies about dangers posed by electronic cigarettes.
Knowledge Action Change's Tomasz Jerzyński, Jessica Harding, and Gerry Stimson have published a paper titled "Global survey of consumer organizations advocating for safer nicotine products" in the journal Public Health Challenges. They investigated the role and activities of safer nicotine products (SNP) advocacy organisations, seeking to "map the number and locations of nicotine consumer organisations globally and describe their history, legal status, membership, structure, objectives, working methods and activities, and funding."
---

---
Jim McDonald, Vaping 360
The FDA Center for Tobacco Products today denied marketing applications from R.J. Reynolds for menthol refills used in its Vuse Vibe and Vuse Ciro vape devices. The CTP action marks the second time the agency has issued a marketing denial order (MDO) for menthol vaping products based solely on the flavor itself.

"Existing evidence demonstrates that non-tobacco-flavored e-cigarettes, including menthol flavored e-cigarettes, have a known and substantial risk with regard to youth appeal, uptake and use; in contrast, data indicate tobacco-flavored e-cigarettes do not have the same appeal to youth and therefore do not pose the same degree of risk," the FDA said in a press release.
---

---
Add to vaping confusion – Colin Mendelsohn
A recent study on vaping in young Australian women and a linked news report on news.com.au are misleading and exaggerating the risks and uptake of vaping. The effect of this scaremongering is to confuse and alarm the public about a potentially lifesaving alternative to smoking.

The study, published recently in the American Journal of Preventive Medicine, examined vaping in 8,915 Australian women aged 19-26 years.
Robert Innes, Vaping Post
Most people think that the objection they have regarding vaping is their own: that they do not like the 'fumes' because this is something that they genuinely dislike – well it is. However, this objection is not their own, not really. It has been planted in them. Decades of publicity about harm from smoking, you know: the dirty, filthy addiction that rots teeth and lungs; clogs arteries; causes heart attack and stroke; turns the foetus into an addict, and makes you blind… Smoking is so stupid is it not?
---
Visit Nicotine Science & Policy for more News from around the World

---