Vapers Digest 21 December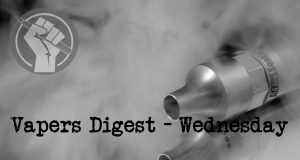 Wednesday's News at a glance:
The year in snus 2022: 'The best one in a long time' ~ Knives out for nicotine pouches ~ Anti-Smoking Policies – a closer look how vaping is treated in the EU ~ 2022 High School Seniors: Little Change in Tobacco Use, But Significant Increases in Current Marijuana Vaping & Flavored Alcohol Consumption ~ Another Survey Finds Youth Vaping Has Declined ~ White Paper Slams Youth Vaping Disinformation ~ Innco Weekly Issue Dec 19th, 2022 ~ The Truth About Youth Vaping in the United States ~ Do Australia's vaping laws need reform? GFN TV December 2022 ~ FDA's tobacco arm "struggled to function as a regulator": report ~ Panel warns FDA's beleaguered tobacco unit lacks direction ~ Report: FDA Tobacco Center Has No Strategy, No Plan, No Goals ~ Ball in FDA's Court as Official Review Cites Its Chaos, Opacity Over Vapes ~Operational Evaluation Of Certain Components Of FDA's Tobacco Program ~ California's Impending Public Health Disaster ~ A Critique of 'Can Anti-Vaping Policies Curb Drinking Externalities?: Evidence From E-Cigarette Taxation And Traffic Fatalities'
SnusForumNet
From updated legislation on nicotine products to the emergence of two smoke-free generations in Sweden, the year in snus 2022 has been an eventful one, says Patrik Strömer, Secretary General of the Association of Swedish Snus Manufacturers.

How would you sum up the year in snus 2022?
Christopher Snowdon, ChristopherSnowdon.com
Mariam Gogolishvili, World Vapers Alliance
In the first part of our analysis of the study on "Effective Anti-Smoking Policies" released by the  "We Are Innovation" Foundation, we summarised the global findings on how harm reduction is applied globally and how countries treat vaping. You can find the piece here.

Now, let's have a closer look at some EU countries.
---
Dr. Brad Rodu, Tobacco Truth
As my readers know, I have been following the results of the annual Monitoring the Future Survey for many years, focusing on alcohol, marijuana and tobacco use among high school seniors.  Just-released 2022 MTF results (here) indicate that past 30-day (i.e., current) use of these products was fairly stable from the prior year (as seen in chart at left), with the exception of vaping marijuana, which significantly increased.
Lindsey Stroud, Independent Women's Forum
The results of the 2022 Monitoring the Future Survey (MTF) were published on December 15. The annual survey conducted by researchers at the University of Michigan tracks the use of various substances from tobacco and vapor products to illicit drugs, among 8th, 10th, and 12th graders across the country. Despite the good news that youth vaping is at levels far below their peak in 2019, anti-tobacco and vapor organizations are now using these results in an even more nefarious fashion and are continuing to decry a youth vaping epidemic.
Coalition of Asia Pacific Tobacco Harm Reduction Advocates (CAPHRA), Scoop
"This white paper completely discredits and disproves persistent claims that there is a youth vaping epidemic, and that vaping is a 'gateway' to smoking," says Nancy Loucas, Executive Coordinator of CAPHRA (Coalition of Asia Pacific Tobacco Harm Reduction Advocates).
---
Innco
Hi Dear Friends,

It's always a pleasure to greet you. Today the review by the Reagan-Udell Foundation for the FDA was released. Charles Gardner expressed his opinion in this tweet, in case you want to check it out.

Dr. Colin Mendelsohn has announced his retirement from medical practice (not from harm reduction advocacy, thank God). He released this blog reflecting on his experience as Australia's first doctor to promote harm reduction for people who smoke. You can read his blog here.
---
---

---
The arm of the FDA that oversees tobacco products has "struggled to function as a regulator" and has been "forced to operate primarily in a reactive mode" a report released Monday by the Reagan-Udall Foundation found.

Why it matters: It is the second independent report that FDA commissioner Robert Califf asked for last summer and comes on the heels of a scathing assessment, also from Reagan-Udall., which found deep cultural and systemic problems at FDA were contributing to vulnerabilities in the U.S. food system.
---

---
Matthew Perrone, AP News
The lack of clear direction and priorities at the U.S. Food and Drug Administration's tobacco division has hampered its ability to regulate electronic cigarettes and other products, according to an expert panel assembled to examine problems at the agency.

A blistering report released Monday describes the FDA's tobacco program as "reactive and overwhelmed," in its effort to oversee both traditional tobacco products and a sprawling market of largely unauthorized electronic cigarettes.
Jim McDonald, Vaping 360
After several months of investigation and analysis, the Reagan-Udall Foundation yesterday released its evaluation of the Food and Drug Administration's Center for Tobacco Products (CTP). The Reagan-Udall report was requested by FDA Commissioner Robert Califf, himself a non-voting board member of the foundation.
---
The Reagan-Udall Foundation
Dear Commissioner Califf,
The Center for Tobacco Products (CTP), the youngest of the Food and Drug Administration's Centers, is confronting enormous challenges from rapidly changing product development, high workload, evolving science, and litigation risk; it is at a pivotal place in its evolution. We proudly submit recommendations to strengthen the regulatory processes and operations of FDA's tobacco program to better position it to face the future.

Our evaluation and resulting recommendations focused on four program areas: regulations and guidance, application review, compliance and enforcement, and communication with the public and other stakeholders. We did not address specific tobacco policy issues, which fall outside the scope of this review.
Karl Abramson, Americans For Tax Reform
Public health in California is about to take a massive turn for the worse. Tomorrow, December 21st, the state's ban on flavored tobacco products and e-cigarettes will go into effect. Evidence from cities and states where flavor bans have been implemented show California's law will lead to increases in smoking and devastating losses to state tax revenue.
Sinclair Davidson, Consumer Choice Center
Recently The Economist published a report into a study that investigated vaping and taxation. The Economist reported the main conclusion of the study as being:

The study found that increasing ecigarette taxes reduces this, too. A $1 rise in ecigarette taxes brings    a 10-14% decline in the number of alcohol related traffic deaths per 100,000 among 16 to 20 year olds.

That seems to be a very impressive result. Yet, as always with public health related research, it should not be taken at face value. While The Economist itself does not provide any critique of the underlaying study, it does caution against the obvious policy conclusions that appear to follow from the study.
---
Visit Nicotine Science & Policy for more News from around the World

---