Vapers Digest 18th January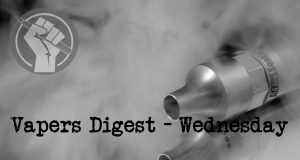 Wednesday's News at a glance:
State-of-the-art review article concludes that e-cigarettes may offer health benefits to COPD patients ~ Interview with pro-vaping advocate Louise Ross ~ Australian Medical Association gets vaping completely wrong…again ~ Not every product is created equal: How the EU can save lives in the fight against smoking ~ 2021 National Survey of Drug Use and Health (NSDUH) Releases ~ Could You Be A Trustee? ~ Come To GFN 23 ~ Parliamentary Activity ~ Innco Weekly Issue | Jan 16th, 2023 ~ FDA's Campaign Against Misinformation Should Start With Its Own ~ Brian King once again ignores adult smokers that have switched to vaping ~ Is There A Breakthrough On The Way For USA Vapers? ~ How I Unexpectedly Came to Run a Vape Shop in Rural Wales ~ BENDSTA: Vape ban proposal must be withdrawn to achieve smoking-free Bangladesh ~ Convenience store lobby's push to sell vapes like tobacco gains steam
CoEHAR, Center of Excellence for the acceleration of Harm Reduction.
---
Antonios Nestoras, EU Reporter
Embracing a harm reduction approach is a pragmatic way to prevent unnecessary deaths – writes Antonios Nestoras, Interim Executive Director of the European Liberal Forum (ELF)

A frontrunner in the global effort against smoking, the European Commission recently made clear in its Beating Cancer Plan that its objective was to create a  'tobacco-free generation',  aiming at reducing the European Smokers to less than 5% of the overall Union's population by 2040.
---
https://twitter.com/VaporAmerican/status/1615400996821139469
---
In 2021, the % of US students aged 12-17 who had smoked a cigarette in the previous month was 0.4% for black students and 0.2% for Asian students! (2.1% for white 12-17 year-olds). https://t.co/wGtSTSFyka

— Jonathan Foulds PhD (@JonathanFoulds) January 17, 2023
The Substance Abuse and Mental Health Services Administration, SAMHSA
Conducted annually, the National Survey on Drug Use and Health (NSDUH) provides nationally representative data on the use of tobacco, alcohol, and drugs; substance use disorders; receipt of substance use treatment; mental health issues; and the use of mental health services among the civilian, noninstitutionalized population aged 12 or older in the United States. NSDUH estimates allow researchers, clinicians, policymakers, and the general public to better understand and improve the nation's behavioral health. These reports and detailed tables present estimates from the 2021 National Survey on Drug Use and Health (NSDUH). Because of methodological changes in 2021, estimates from this year should not be compared with previous years.
---
Three from Dave Cross, Planet Of The Vapes
2022 was a very busy year for the New Nicotine Alliance (NNA) and 2023 looks to be even more challenging for the UK's only charity working on behalf of nicotine consumers. The NNA is looking for people who think they can contribute to the charity's work or make recommendations of someone else who they think would be suitable.
The organisers of the Global Forum for Nicotine (GFN) wish vapers a happy new year and are inviting you to come to #GFN23. The event will be of interest to anyone interested in vape related research or advocacy. The 10th edition of the Global Forum on Nicotine takes place at the Marriott Hotel, Warsaw, from Wednesday 21st to Saturday 24th June 2023, and registration is now open.
In the latest vape and tobacco harm reduction related news from the House of Commons, the LibDems' Daisy Cooper is interested in the online vape market. Labour's Alex Cunningham presses the government on the still absent tobacco control plan, and Liz Twist wondered about healthy life expectancy.
---

---
Innco
Hi Dear Friends,

We hope you are doing amazingly well. We had a great time in our Town Hall this last Saturday; please remember, if you are interested in participating in the case studies, email Olivier at ot@innco.org. And if you need help with a Press Release, you can contact Sola at oo@innco.org.

In the past six months, INNCO has answered 12 special requests by members. If you need assistance with anything we can help, please don't hesitate to contact us at info@innco.org.
---

---
Martin Cullip, DC Journal
Past and present commissioners of the Food and Drug Administration recently announced an initiative to engage partners to help combat public health misinformation. Explaining the rationale for this move, current FDA Commissioner Robert Califf stated, "I actually believe that misinformation is the leading cause of death right now in the U.S.," saying that "people are making bad choices driven by the information that they get." 

Encouraging words that the FDA needs to take to heart when presenting information about vaping.
Harry's blog 109:
We are now used to hearing experts of all disciplines, from virologists to behavioural psychologists, interviewed in the media about COVID-19. There is general agreement on personal safety measures like social distancing and hand-washing. But even at this basic level, questions arise. As it becomes clear that the virus can be carried in airborne droplets, should the recommended distance in the UK remain at 2 metres rather than I metre plus or even 3 metres?
Never ceases to amaze me how it's "save the innocent children facing a lifetime of addiction," yet once they turn into adults, they're considered weak and subhuman, not worthy of sympathy. Or (apparently) medical treatments. https://t.co/2h28kAYl4D

— Kristin Noll-Marsh (@Noll_Marsh) January 15, 2021
---
Visit Nicotine Science & Policy for more News from around the World

---