Vapers Digest 15th March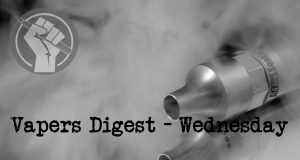 Wednesday's News at a glance:
Julie Fenwick, Vice
There's a rumour going around that's been plaguing the nicotine-crazed community since vaping firmed up its unsexy chokehold on the world: Can switching back to ciggies help when you're trying to quit? And which is the lesser of the two evils, anyway?

After speaking to some experts, I'm gonna cut to the chase and give it to you straight. The answer to the first question is, basically: No. But there's a few things going on here.
---
International Network of Consumer Organizations (INNCO)
Hi Dear Friends,

We hope you are doing amazingly well. The European Commission recently launched part 2 of its Evaluation of the Legislative Framework for Tobacco Control. It is a public consultation to collect stakeholders' perceptions on the current legislative framework for Tobacco Control, including the Tobacco Products Directive (TPD) and Tobacco Advertising Directive (TAD). The consultation ends on 16 May. For more information on how to participate, please read ETHRA's article here.
---
Brent Stafford, Regwatch
---
Three  from Dave Cross, Planet Of The Vapes
Planet of the Vapes spoke to three parliamentary sources prior to the publication of our article saying that the Government was giving serious consideration to a vape tax, published on 27 February. The i newspaper has confirmed that these discussions were taking place between government departments, but now goes further to reveal that Chancellor Jeremy Hunt has rebuffed the idea of a new tax.
The UK Vaping Industry Association (UKVIA) has released an updated version of its 'Preventing Underage Sales Guide', aimed at UK retailers. It contains advice on implementing a 'Challenge 25' policy, maintaining a 'refusals register', staff training, and using Digital ID to ensure that sales aren't made to underage purchasers.
Vapeclub, one of the UK's leading online vape retailers, has taken steps to address the current focus on disposable ecigs and related issues. Planet of the Vapes is covering Vapeclub's important contribution to the debate in a series of three articles this week. This first piece looks at the evidence and waste issues.
---

---
Mariam Gogolishvili, World Vapers' Alliance (WVA)
New research shows once again that adults prefer various flavours over being restricted to tobacco flavourings. The debates around banning vape flavours have been ongoing for years, with politicians and public health experts weighing in on both sides, particularly in the United States, Europe, and Canada. These debates have significant implications for tobacco harm reduction (THR), as flavoured vapes are often favoured by smokers trying to quit smoking.
---

---
Jim McDonald, Vaping 360
As Major League Baseball teams transition from spring training to the regular season, players say they're replacing their once-ubiquitous cans of smokeless tobacco with modern, tobacco-free nicotine pouches. And, according to Fox Sports, U.S. pouch market leader ZYN is the brand most big leaguers like best.

Of course, ballplayers might just refer to all nicotine pouches as "zyn"—the same way people call all facial tissues "kleenex."
---
---
Visit Nicotine Science & Policy for more News from around the World

---