In the News March 30th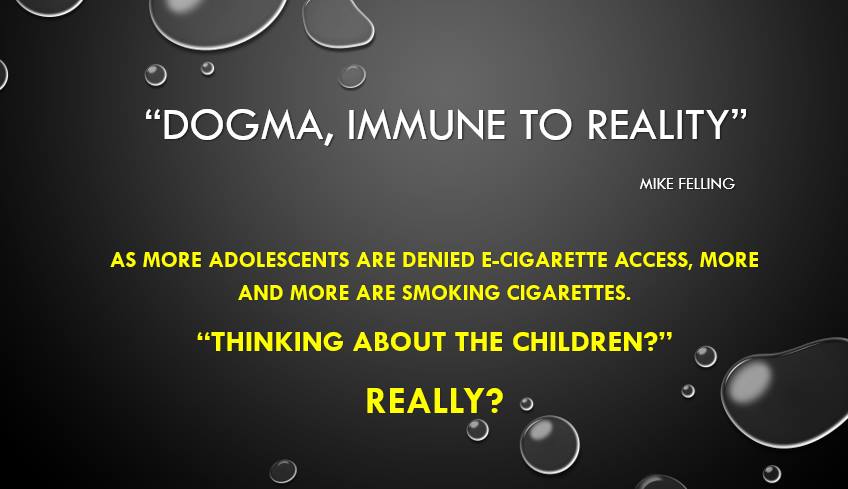 Wednesdays News at a glance:
When foot meets bullet – Let's Discuss Angels On A Pin – Vaping Advocate of the Year –  District Council proposes 'vaping' crackdown – Vape a Vet Project – Why US Big Tobacco Lobbies for E-Cigarettes – Orange County vaping industry lobbies against changes in smoking laws – Long Term Benefits of Smoking Abstinence – Preliminary thoughts on my ongoing vaping experience survey – The E-Cig Industry's Favorite Congressman Doesn't Even Vape – Industry Urges Gov. Brown To Veto Vaping Restriction Bill – 1% of a $900 Billion Market Has Health Officials Baffled – Nicotine Science and Policy Daily Digest – Wednesday, 30 March 2016
Fergus Mason
So a couple of days ago an article appeared. Some vaping advocates thought it was a great piece of work. A somewhat larger number were less impressed. I'm with the second group. It may have been meant well, but the author could have spent his time more profitably doing something else. Practically anything else, in fact…
Dick Puddlecote
There was an awful article posted at the weekend about vaping entitled "6 Misleading Pro-Vaping Arguments We Should Stop Using". It should more properly have been headlined "Let's discuss angels dancing on the head of a pin"for the usefulness to the cause it presented. That is, on balance negative….
Global Forum on Nicotine
Nominations for the award can be made on-line by clicking here. The process requires completion of a simple form, giving the name of the nominee and a short statement (up to 50 words) in support of the nomination. Nominations can be made up until 1700 (CET) 31st March 2016.
---

---
Using e-cigarettes could be banned in communal areas of Epping Forest council housing under new plans. People will also be forbidden from charging the devices from council-owned computers, as part of an Epping Forest District Council crackdown on 'vaping'.

The proposals come as part of a new Smoking and Vaping Policy, which will be debated next week.
Few organizations can have such a significant impact as the Vape a Vet Project, as we directly and profoundly support our military community by providing to them what we have found to be a significant and healthy lifestyle change.

Our work at The Vape a Vet Project (a 501(c)(3) non-profit charity that provides free electronic cigarette starter kits to any active duty or former service member who is a current tobacco user) is relentless and thriving….
---
---
Nicholas Kusnetz – Vice
In the Golden State, home to healthy living, progressive politics and one of the lowest smoking rates in the nation, cigarettes can seem like a relic of the past, barred long ago from restaurants, bars and even some city parks.
Against changes in smoking laws
Orange County vaping industry executives met at the state Capitol on Tuesday to urge Gov. Jerry Brown to veto legislation that would classify electronic cigarettes as tobacco and raise the legal smoking age from 18 to 21…
---

---
Riccardo Polosa – Discovery Medicine
Improvements in asthma outcomes have been recently reported in asthmatic smokers who have substantially reduced their tobacco consumption by switching to ECs. Confirmation of these preliminary findings is necessary to reassure patients, healthcare professionals and policy makers….
On my ongoing vaping experience survey – Juhani Orelma
I published a survey that looks tiny, but has proven to be quite fruitful. Even more than I thought too. A couple hundred answers in now and a big picture is already emerging and I'm finding it truly fascinating. English and Finnish versions of the survey here 🙂
---
The battle over Quebec's new anti-vaping law is heating up as the Canadian Vaping Association readies to file its constitutional challenge to bill-44 – Brent Stafford – Regulator Watch
---
Doesn't Even Vape
Tom Cole doesn't vape. The 66-year-old Republican representative from Oklahoma prefers cigars, yet he's currently a bit of an unlikely champion in the vaping industry. That's thanks to a bill he has been trying to shepherd through Congress that would protect vaping manufacturers from a potentially fatal blow in pending regulations.
To Veto Vaping Restriction Bill
The fast-growing vaping industry promoted itself Tuesday as a partner – not a scourge – in the effort to reduce smoking, as representatives urged California Gov. Jerry Brown to veto a bill that treats the products like tobacco.


Has Health Officials Baffled – ACSH
If 20 years ago you had told the American Council on Science and Health that tobacco company stocks would be outpacing the S&P 500 by 600 percent for investor return in the two-year period leading into 2016, we'd have thought you were proposing some bizarre science-fiction story.