In the News January 11th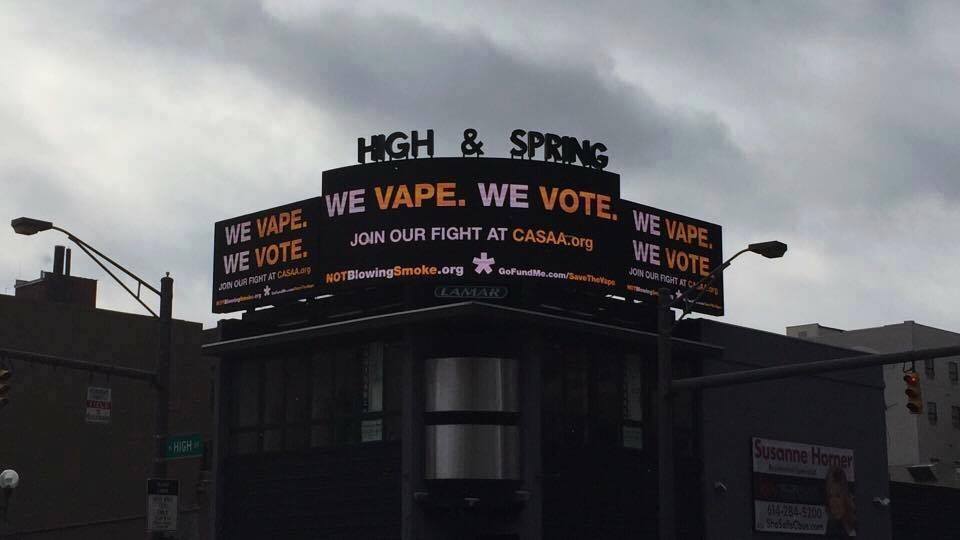 Mondays News at a glance:
Tobacco Products Directive – UK consultation results – UK's detailed TPD plans suggest light-touch approach – The whole point about vaping and harm reduction – The Lysol Lady – 2016 – The end of vaping? – Dragon Slayers – Powering the public health war on vaping – Is vaping safer than smoking? – E-cigarette brands are growing but face hurdles over 'crass' marketing – The great vape debate: Should e-cigs be banned in indoor public places? – New Study Provides Experimental Evidence that E-Cigarette Advertising Does Not Renormalize Smoking – Nicotine Science and Policy – Daily Digest – Mon, 11 January 2016
UK consultation results – E-Cig Health Risks – Dave Upton
In the insurance business TPD stands for 'total & permanent disability' and that is exactly what the EU's Tobacco Products Directive was designed to cause the vaping industry.

Some, and probably the most significant, parts of Article 20 are written in stone. For example:

No liquid over 20mg/ml
No container over 10ml
No tanks greater than 2ml
Notification of products

This piece of European Parliament legislation was passed, without proper consultation, in October 2013. It was not based on scientific evidence and it appears that the pharmaceutical and tobacco industries and tobacco producing countries all had a strong hand in its design….
Suggest light-touch approach – Barnaby Page – ECig Intelligence
The shape of future e-cigarette regulation in the UK became clearer today with the release of the government's response to one major public consultation, and the launch of another on the issue of fees.

While there could theoretically still be changes, the Department of Health's statement on the completed consultation suggests that the government favours light-touch regulation when it legislates to transpose the European Union's Tobacco Products Directive (EU TPD) before the 20th May deadline…
The View from Cullingworth
So we're sat in a cafe in Bradford having something to eat. Outside the cafe there's a little gathering, about ten or twelve young people – boys and girls – aged 14 or 15. They're behaving exactly like you'd expect young people this age to behave – joshing with each other, lots of braggadocio from the boys, preening and giggling from the girls. All pretty normal and almost certainly a bunch of nice kids.

And three or four of them were vaping….
---

---
Lorien Jollye – The Exit Door Leads In
It has been an odd few days for me, bittersweet you might say. A much needed 4 day break from Twitter to get my thoughts in order and work out just what part I am playing in all this and if it is worth the stress I am putting on myself.

4 days later and I haven't really found an answer and I guess I did not really expect to. Maybe I wouldn't have liked the conclusion I should have come to and so avoided finding it. Who knows? I can say with absolute certainty that 4 days ago I nearly wrote my resignation from NNA and was ready to throw the towel in on all of this.
Mawsley – Planet of the Vapes
The end of 2015 set up the bulk of discussion surrounding the coming year: the confirmation that Article 20 will be implemented (pending a final ruling) overshadows everything else. Vapers face challenges but small to medium vape companies look set for almost impossible challenges. At the outset though, this is not the end for vaping as a technology even if it means we will see a huge upheaval…
---
Powering the public health war on vaping – RegWatch

---
Tom Pruen – ECITA
This seems to most of those involved in the debate to be a bit of a silly question. However, as regular as (slightly eccentric) clockwork, a story will hit the headlines;

All of these things have the same basic concept – a measureable facet of e-cigarettes has a level (or an effect) in a particular test that is either non-zero or the same (or greater) than the same level (or effect) from tobacco smoke. Often, this testing involves the use of e-cigs in a completely unrealistic way, or with a completely unrealistic exposure (or even both)….
Filed by ex-GlaxoSmithKline manager
Aformer GlaxoSmithKline biostatistics manager has filed a whistleblower lawsuit accusing the drug maker of firing him for alleging dodgy study data was used to tout the effectiveness of a smoking-cessation product.

Alexandre Selmani, who worked at Glaxo for nearly a decade, claims his supervisors ignored repeated efforts to alert them to statistical mistakes made in clinical trials for NiQuitin…
---
---
Should e-cigs be banned in indoor public places? – Wales Online
Welsh Liberal Democrat AM Peter Black argues why it would be a mistake to ban e-cigarettes in pubs, clubs and restaurants
The journey taken by e-cigarettes over the past few years has been remarkable. From virtually nowhere, we can now find a shop selling them on every high street.

Tens of thousands of people suffer and die prematurely each year in the UK from cancer, heart disease and other conditions directly linked to smoking.
New Study Provides Experimental Evidence
That E-Cigarette Advertising Does Not Renormalize Smoking – The Rest of the Story
Perhaps the most critical argument of anti-vaping advocates is that the promotion of electronic cigarette use will renormalize smoking. Presumably, anti-vaping advocates believe that by depicting the physical act of what "looks like" smoking in a glamorous way, electronic cigarette advertisements will promote smoking, reversing tremendous societal progress in reducing smoking rates.
But face hurdles over 'crass' marketing – Marketing Magazine
E-cigarettes have faced their fair share of condemnation from the health lobby, politicians and from the Advertising Standards Authority.

But in spite of this floundering start, the market is set for growth as vaping becomes more popular and the NHS gets ready to prescribe e-cigarettes for quitting smokers. Could 2016 mark a new era of tobacco (free) advertising?

In Memory of Chris 'Cat' Heseltine 1950-2016