E-Cigarettes in the Daily Mail

UPDATE 18th Dec 2014:
Europe's largest retail network of e-cigarettes eSmokingWORLD file lawsuit against Agence France-Press (AFP)
In this context, the publication of information AFP now is very dangerous and has its own specific economic dimension, even if it contains a thesis that can not defend themselves from a scientific point of view, and contrary to the objective analysis of the test results, which supposedly presented" – says eSmokingWORLD Public Affairs, Jerzy Jurczyński….
E-cigarettes contain 10 times the level of cancer-causing agents as regular tobacco.

Health experts in Japan discovered high levels of chemicals including formaldehyde and acetaldehyde in the vapour produced by several types of e-cigarette liquid.

The latest findings will come as a blow to those in favour of the electronic devices, heralded as safer than regular cigarettes….
It's been causing a stir around the internet all day.  A great shame that the journalist didn't check their facts as Dr Farsalinos has well documented studies of this available:
However, there is a more interesting story behind this. I immediately contacted Prof. Kunugita to ask the results of their studies. His response was immediate, mentioning the list of published studies from which he got the results. In fact, the results of analysis of 13 Japanese brands were presented in a table 1 in a recent review on carbonyls generated from e-cigarettes, published in International Journal of Environmental Research and Public Health. The results are shown in the table below.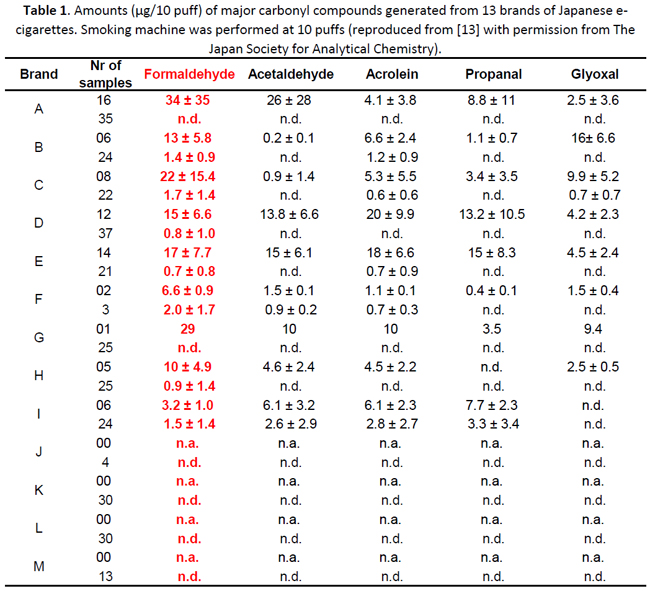 The Tweet that started it all:

And What is Dr Naoki KUNUGITA head of:
To collaborate and contribute within the WHO Tobacco Laboratory Network (TobLabNet) in particular and the Tobacco Free Initiative within the WHO Prevention of Noncommunicable DiseaseS in general in the work plan on tobacco product testing and research…..
Another Awesome blog  from Jo Lincoln addresses this perfectly:
"Ok so I just completely mangled Sir Isaac Newton there in the title which was, of course, a reference to his third law of motion…
"When one body exerts a force on a second body, the second body simultaneously exerts a force equal in magnitude and opposite in direction on the first body."
I make no apology for this hijacking of one of the cornerstones of physics, for it seems to apply to other aspects of the physical world too."