Vaping ban 'will push smokers back to tobacco'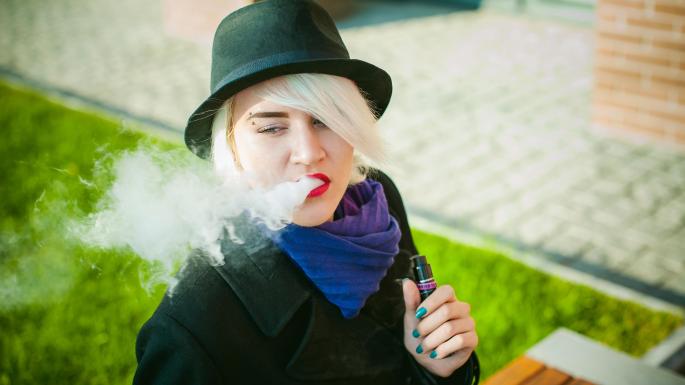 Medical experts have criticised the decision by San Francisco to ban the sale of all e-cigarettes, saying it could push adults back towards smoking tobacco.
It will become the first big city in America to ban the sale of e-cigarettes as it tries to curtail a rise in "vaping" among teenagers, which it calls an "epidemic".
The measure requires the approval of London Breed, the mayor, but once implemented it will outlaw their sale in shops and by online delivery to addresses in the city.
Other cities and states have tried imposing their own restrictions. In Nebraska, the school district of Fairbury is forcing its students to submit to random nicotine testing if they want to take part in extracurricular competitions.
Experts on nicotine addiction have been left baffled by the San Francisco ban, which they point out does not include the sale of normal cigarettes or even e-cigarettes filled with cannabis.
Neal Benowitz, an expert on nicotine and a professor of medicine at UCLA, said he was "disappointed and frustrated" by the decision.
"While I am sympathetic with the parents' concerns, whether e-cigarettes use among adolescents will persist, as opposed to being a fad, and if there are any long-term harms for e-cigarette use in youth are unknown," he said. "On the other hand, we know that if a smoker decides to quit smoking using e-cigarettes, and uses e-cigarettes daily, e-cigarettes can be very helpful in aiding that quitting."
E-cigarettes, or vapes, contain high levels of nicotine, but have just a fraction of the toxins that make conventional cigarettes so dangerous. Vaping is even recommended for adult smokers by Public Health England, which says that it is 95 per cent safer.
Lynn Kozlowski, an expert on tobacco use and nicotine policy, and professor of health behaviour at the University of Buffalo, New York, said: "For cigarettes that are proven to kill three in five smokers prematurely to remain on the shelves, while a product that eliminates or dramatically reduces the toxins ingested is banned, is a bizarre public health act."
The use of e-cigarettes among teenagers has risen 30 per cent from 2017 to last year, with about 3.6 million of those aged 13 to 18 regularly vaping, according to a study by the Centers for Disease Control and Prevention.
"We spent a few decades fighting Big Tobacco in the form of cigarettes," Shamann Walton, a co-author of the bill to ban e-cigarettes, said. "Now we have to do it again in the form of e-cigarettes."
The popularity of e-cigarettes has been attributed to the success of Juul, a company in the city founded four years ago. Juul makes up 75 per cent of the e-cigarette market in the US.
Whether other cities follow the route of San Francisco will depend a lot on the data, according to Jidong Huang, an associate professor at Georgia State University who specialises in the economics of tobacco control. Many officials will be waiting for the results of this year's National Youth Tobacco Survey, due out shortly, which monitors tobacco use among teenagers.
"If the data shows the use of e-cigarettes among high school and middle school students continues to increase, then there is going to be more of a push from the parents and schools for more stringent regulations and policies in cities," Mr Huang said.
"In that case I would think this complete ban may be more palatable to a lot more cities in the US and could be adopted."
Juul said it would continue to oppose the legislation in San Francisco. Ted Kwong, an official at the company, said: "This full prohibition will drive former adult smokers who successfully switched to vapour products back to deadly cigarettes, deny the opportunity to switch for current adult smokers, and create a thriving black market instead of addressing the causes of under-age access and use."