UK Vaping Guidance 'Needs Clarity'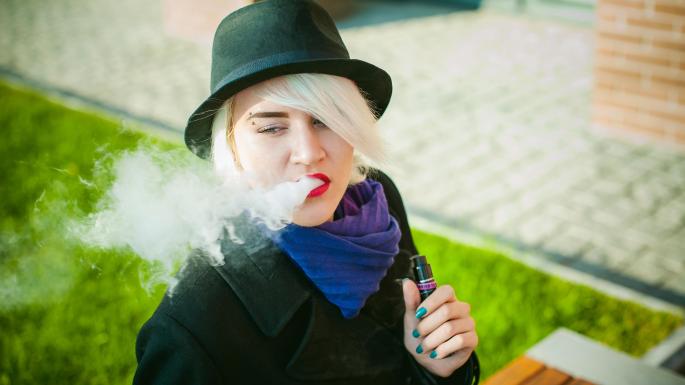 More than half of doctors say current guidance isn't clear enough on use of e-cigarettes for smoking cessation, according to a Medscape UK poll.
The five question poll was launched on November 8th during a period of growing concern over the safety of vaping after high-profile deaths in the US.
European Expert Opposition to Vaping
The results came as the European Respiratory Society (ERS) said it cannot support vaping for smoking cessation. "The human lungs are created to breathe clean air, not "reduced levels of toxins and carcinogens", and the human body is not meant to be dependent on addictive drugs," it said in an editorial in the European respiratory Journal (ERJ).
Making seven arguments against e-cigarette use it concluded: "ERS cannot recommend any product that is damaging to the lungs and human health."
ERS argued: "When a smoker quits completely (but not partially) he or she will experience many health benefits, as there is no exposure to harmful substances any longer. Smokers who switch to alternative products will still have a long-term exposure to toxic and carcinogenic substances. Although reduced, this continued exposure to toxicants is a bad alternative to quitting smoking."
However, Prof John Britton, director of the UK Centre for Tobacco & Alcohol Studies and consultant in respiratory medicine at the University of Nottingham, disagreed. "The ERJ editorial is wrong in relation to each and every one of the seven arguments put forward."
Commenting via the Science Media Centre he continued: "They are so opposed to nicotine dependency in any form that they are risking the lives of smokers who would benefit by switching completely to e-cigarettes. There is nothing in this new paper that should change advice to smokers. If you smoke, switch. If you don't smoke, don't vape. And just as you wouldn't buy unlicensed alcoholic drinks, don't vape cannabis or other bootleg products."
UK Health Approach to Vaping
Public Health England's (PHE) stance is that "e-cigarette use is around 95% less harmful to health than smoking". However, it was unable to comment on specific policy issues around our poll results due to restrictions during the election campaign period.
E-cigarettes cannot be prescribed in the same way as nicotine replacement therapy (NRT).
Previously, the National Institute for Health and Care Excellence (NICE) said "people who smoke should not be discouraged from switching to e‑cigarettes", but concedes long-term evidence on vaping is still developing.
The Royal College of Physicians (RCP) said that, on balance, "in the interests of public health it is important to promote the use of e-cigarettes, NRT and other non-tobacco nicotine products as widely as possible as a substitute for smoking in the UK".
Safety Concerns
Of the 508 responses to our poll from UK doctors, nearly half (49%) agreed that e-cigarettes are safer than smoking. However, 35% believe that more evidence is needed, and 16% said vaping is not safer.
When it came to clarity of current guidance, 52% said it is not clear enough. Only 9% said it was, and 39% said more information is needed.
However, 51% would recommend e-cigarettes as an alternative to tobacco if a patient asks, 33% would not, while 16% were unsure.
NRT was more likely to be recommended than e-cigarettes by 71% of doctors. Only 17% said they'd be more likely to recommend vaping. The rest chose 'other/not applicable'.
Aside from smoking cessation, 64% of respondents believe e-cigarettes encourage non-smokers to vape. Of the rest, 16% said 'no' they didn't, and 20% were unsure.
'Uncontrolled Experiment'
Among comments on our poll, "This is an industry promoted profit orientated product encouraging people to buy and consume," one doctor said. Adding that it "may be marginally safer than smoking but it is all an uncontrolled experiment with people's health and we won't really know the answer for 30 to 60 years".
However, another doctor wrote: "NRT versus other tobacco harm reduction? Vaping nicotine is the most successful option by a long way."
Concerns about attracting non-smokers were raised in another comment: "I would only recommend for patients who smoke standard cigarettes. There is a probability that some young people now start on e-cigarettes. If you have never smoked keep it that way."
A BMA spokesperson told us by email: "Due to the short period of time they have been in use, research into the long-term impact of e-cigarettes is somewhat limited. However, put in context of the substantial harm associated with smoking, there is a growing consensus that the use of these products is less harmful than smoking tobacco. We will of course be monitoring ongoing research and developments in this area closely.
"All smokers, including those who wish to use e-cigarettes as an aid to quit smoking, should be able to access the support of local smoking cessation services, and be aware of the full range of smoking cessation interventions and support available."
Current online resources for healthcare professionals on e-cigarettes include: