UK vapers advised to vote for EU exit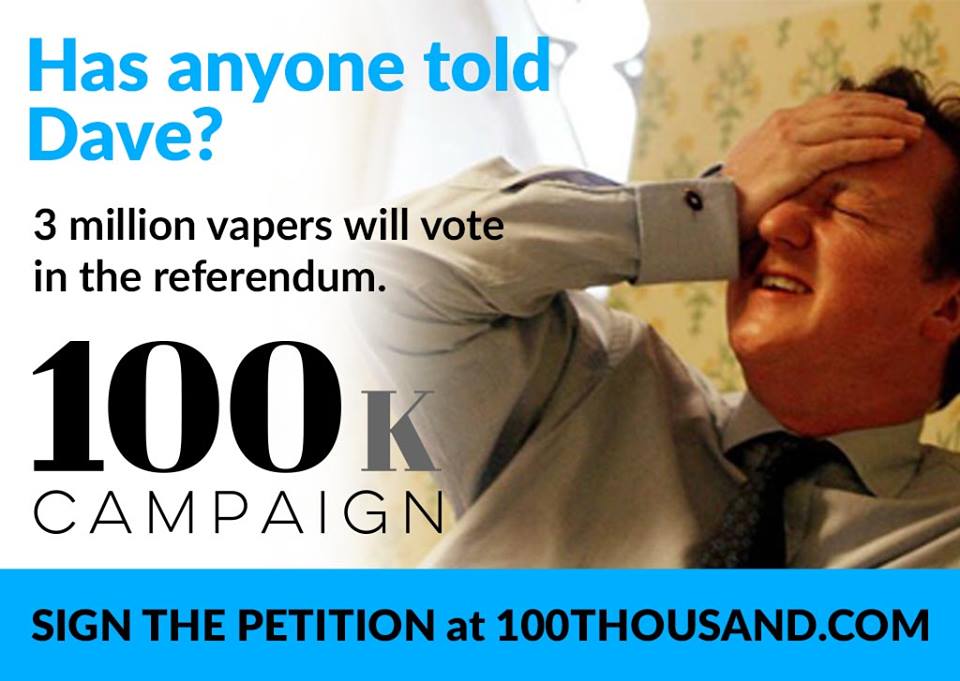 UK vapers advised to vote for EU exit, but critics say it's pointless
Written by Freddie Dawson || 25 February, 2016 || Regulatory News Analysis
Originally Posted by ECig Intelligence
A group of British vapers is convinced that voting to leave the European Union will save the industry and consumers from the looming Tobacco Products Directive (TPD) and its restrictions on e-cigarettes.
The UK will hold a referendum on 23rd June in which citizens will decide whether it should stay in the EU or quit – an option widely nicknamed "Brexit".
The referendum was promised by prime minister David Cameron in his successful 2015 election campaign to address the concerns of those who feel the EU has too much influence on Britain. Relatively obscure European rules such as the TPD are not specifically at issue.
But a group calling itself Vapers for Britain (VfB) is now trying to mobilise others to vote for a Brexit, and hopes to force the UK government to reconsider the implementation of the TPD.
VfB estimates that there are 3m UK vapers, a figure which it believes could swing the referendum result if all were motivated to turn up and vote, although ECigIntelligence estimates the UK vaping population to be 2.5m, of which just 1.4m would be considered daily vapers.
"Three million British vapers will have a vote in the EU Referendum. That's more than enough to swing the referendum our way," said VfB. "If we win the TPD is utterly unenforceable. And even if we don't quite win, we would still succeed because politicians throughout Britain will have seen vaper power at work. They would start to respect vapers."
The group, which appears to be closely linked with the 100K group of anti-TPD vaping businesses, claims that implementation of the European directive will result in:
53% of vape stores closing down.
83% of devices being banned.
56% of flavours being withdrawn.
16% of vapers, those who prefer e-liquid with more than 20 mg/ml of nicotine, being unable to get it.
Impossible dream?
However, politicians speaking earlier this year at the all-party parliamentary group (APPG) for e-cigarettes in Westminster – the seat of the UK government – said that attempting to include TPD-related demands in the debate over the UK's continued involvement in the EU was pointless.
Even if the referendum vote supported an exit, they argued, the TPD would already have been implemented in UK domestic law – the deadline for that is more than a month before the voting date. Leaving the EU would not automatically invalidate that law.
A Brexit vote would theoretically give politicians a mandate from the public to repeal the e-cigarette restrictions, but in the midst of the enormous political and administrative upheaval that leaving the EU would involve, it would likely be low down on the list of priorities. Equally, if the UK does remain in the union, politicians negotiating a better deal for Britain with the EU will have larger concerns than addressing the TPD's impact on e-cigarettes.
Either way, changes would come too late to help much of the UK e-cig sector, and an EU exit could also make it more difficult for UK e-cig companies to do business with those countries remaining in the EU.
Stronger together
The UK market is already seeing consolidation blamed on fears of TPD implementation.
E-Quits, a Southampton-based company with brands such as Lonjas UK, Vaping Warehouse, Phil The Greek, Patti Bakers Pastry and The Olde Sweetshop, recently bought a 51% stake in Heidi Heisenberg Limited, a Kettering e-liquid firm that produces the Fetish Gourmet Elixirs brand.
Heidi Davis, creator of Heidi Heisenberg, said she agreed to the takeover because she feared her company would not be able to afford the cost of TPD compliance on its own.
"We knew the TPD would be one hurdle too far for us as a company to continue, and we are delighted that E-Quits have come in to secure what we produce here in Kettering and securing the future of our staff," she added.
What This Means: The VfB's logic is more hopeful than sound on several grounds. First, there is ample possibility that the British people as a whole will reject a Brexit even if all those vapers support it; the most recent opinion poll shows about 25% still undecided with the remaining 75% almost equally split between the "stay" and "leave" camps, while the bookmakers are strongly favouring a "stay" result. The outcome may not be easy to predict but that does not mean the vote will be close enough for a single-issue group to tip.
Second, even if vapers do flock to tick the "leave" box, our own figures suggest that only 1.4m of them – less than half the number talked up by VfB – are daily users, and it does seem unlikely that more casual ones would let e-cigarette issues guide their voting decision. Indeed, it's implausible that all the daily users will put nicotine delivery systems above every other concern in what might be the biggest political decision of their lives. It is not as if the TPD actually bans e-cigarettes outright, after all.
Third, even if Britain does decide to leave the EU, the TPD would not disappear overnight. The departure negotiations would take at least two years, during which time the directive would continue to have legal force. After that period, whichever government was then in power might change the British legislation, or might not.
In short, it seems unlikely that the VfB campaign will succeed in swinging the referendum, or that if it did manage to do that, it would have any effect on e-cigarette regulation in Britain. Which raises the questions: is the venture self-delusion? A desperate grasp at a last straw? Or a deeply strategic political move that will pay off dividends later?
Either way, it somewhat ironic that in disclosing on its Website what it will do with users' data, the VfB highlights that it values privacy and data protection – two ideals made mandatory through an EU directive transposed into UK law.
– Freddie Dawson ECigIntelligence staff