U.S. Surgeon General update has mixed message on e-cigarette effectiveness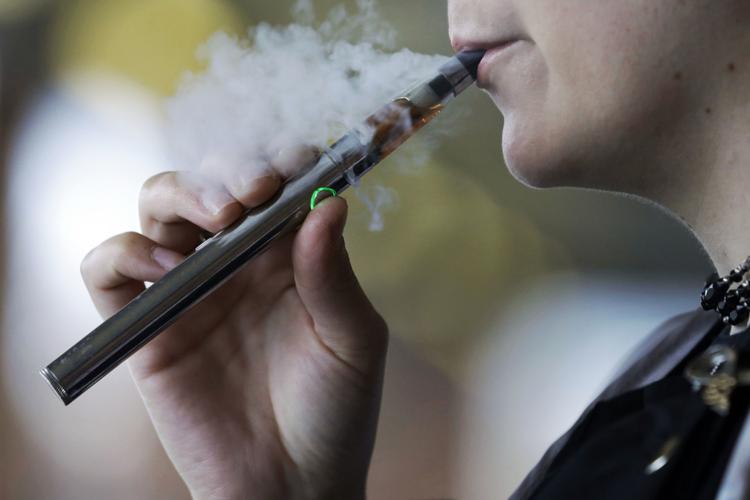 The U.S. Surgeon General released Thursday a 30-year update on smoking-cessation efforts that provided a mixed message on the effectiveness of electronic cigarettes.
E-cigarettes are not currently approved by the Food and Drug Administration as a quit-smoking aid, and are not considered as safe products for any user.
"E-cigarettes, a continually changing and diverse group of products, are used in a variety of ways," Dr. Jerome Adams said in the 20-page consumer guide.
"Therefore, it is difficult to make generalizations about efficacy for cessation based on clinical trials involving a particular e-cigarette. More research is needed on whether e-cigarettes are effective for smoking cessation and to better understand the health effects of e-cigarettes."
Adams also cited the need to "connect with smokers where they are."
Cigarette smoking among American adults is at an all-time low of 14%, which still represents 34 million smokers.
Adams devoted two paragraphs in the guide to e-cigarettes.
The primary focus of the update was on:
Health benefits of quitting;
Addictive qualities of nicotine;
Promotion of smoking-cessation methods that have had limited successes;
Strategies for decreasing tobacco use, such as raising excise taxes, fully funding prevention programs at the state level, and implementing graphic warnings labels on tobacco products.
According to the report, more than 60% of U.S. adults who have ever smoked cigarettes have quit.
However, less than 33% were successful using FDA-approved cessation medications or behavioral counseling.
"Many adults who smoke are interested in using e-cigarettes to quit cigarettes," according to the guide.
"Some research suggests that using e-cigarettes containing nicotine is associated with greater smoking cessation than e-cigarettes that don't contain nicotine.
"Some research suggests that more frequent use of e-cigarettes is associated with greater smoking cessation than less frequent use."
The guide recommended that "in order for adult smokers to achieve any meaningful health benefits from e-cigarettes, they would need to fully switch to e-cigarettes and stop smoking cigarettes and other tobacco products completely."
"Among those who have switched completely, the ultimate goal should be to also stop using e-cigarettes completely."
Adams' office said research shows that more than two-thirds of U.S. adult cigarette smokers report interest in quitting cigarette smoking, with the majority trying to quit during the past year.
"We know more about the science of quitting than ever before," Adams said.
"I'm calling on healthcare professionals, health systems, employers, insurers, public-health professionals, and policy makers to take action to put an end to the staggering — and completely preventable — human and financial tolls that smoking takes on our country."
Matthew Myers, president of the Campaign for Tobacco-Free Kids, said the update "has important implications for public policy on e-cigarettes."
"It shows that e-cigarette interests distort the evidence when they cite the purported smoking-cessation benefits of e-cigarettes in fighting policies needed to reverse the current youth epidemic, especially bans on flavored e-cigarettes.
"There is limited evidence that e-cigarettes in general help adult smokers quit and no credible evidence that flavored e-cigarettes do so."
Myers said the update "demonstrates that the FDA's failure to require e-cigarette manufacturers to provide scientific evidence about their products has hurt smokers by eliminating the need for manufacturers to conduct valid scientific studies about the impact of their products on smoking cessation."
Meanwhile, anti-smoking advocates say Adams has joined in the chorus of those who are overlooking or ignoring studies that support the public-health benefit of e-cigarettes.
"In recent years, the Office of the Surgeon General has become so politicized on the issue of tobacco-harm reduction that it has become difficult to expect much from them in the way of honest scientific communication on the subject," said Gregory Conley, president of American Vaping Association.
Conley cited as an example the update "barely even addresses Swedish snus, which is the only product to have received permission from the FDA to make modified risk claims."
David Sweanor, an adjunct law professor at the University of Ottawa and the author of several e-cig studies, said Adams and his office "have ignored Nielsen data, analyst reports, estimates of cross-elasticities, the lived experience of millions of vapers, the insights from thousands of vape shops, the experience of Sweden, Norway, Iceland, etc. on substitutability."
The foremost study on the public-health impact of e-cigarettes, released in April 2016 by the Royal College of Physicians, says e-cigarettes are up to 95% less harmful than traditional cigarettes. Public Health England said the study helped affirm its decision to include e-cigs as reduced-risk options for smokers.
Recently, there have been efforts by anti-tobacco advocacy groups to downplay, if not try to refute, the 95% less harmful findings.
In a January 2019 study published in the New England Journal of Medicine, researchers with the U.K. National Health Service determined e-cigarettes are nearly twice as effective — although on a low overall level — as nicotine replacement therapy products in helping smokers quit traditional cigarettes for at least one year.
Tighter regulations
The Food and Drug Administration raised the legal smoking age from 18 to 21 on Dec. 20.
The FDA has set Feb. 6 as the deadline for manufacturers of cartridge-based e-cigarettes, such as Juul Labs Inc., R.J. Reynolds Vapor Co., NJoy and Fontem Ventures, to stop making, distributing and selling "unauthorized flavorings," or risk enforcement actions. Those flavors are anything other than tobacco and menthol.
The FDA said Jan. 2 that makers of nicotine liquids, also known as e-liquids, for open-pod e-cigarettes are now considered as manufacturers, thus subject to a May 12 deadline for submitting a premarket application to the FDA.
The premarket standard requires the FDA to consider products' existing risks and benefits to the population as a whole, including users and nonusers, particularly compared with traditional cigarettes.
Pro-vaping advocates have complained that for most vape shops the premarket application process is too costly — estimated to be between $500,000 and several millions of dollars per application — and too cumbersome.
They predict the majority of shops will go out of business shortly after the May 12 deadline unless Congress or the FDA amend the new regulatory requirements.