FDA to Ban All E-Cigarette Pod Flavors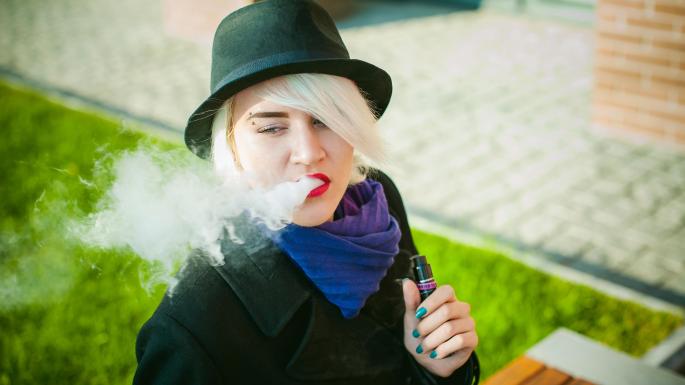 FDA to Ban All E-Cigarette Pod Flavors Except Tobacco and Menthol
Impact on small businesses and Trump's re-election prospects drive compromise
The Food and Drug Administration plans to ban the sale of fruity flavors in cartridge-based e-cigarettes, but the restriction won't apply to tank vaping systems commonly found at vape shops, according to people familiar with the matter.
The action is seen as a compromise between Trump administration officials who want to address a rise in teen vaping and those concerned about the impact on small businesses and the possible political fallout for President Trump, these people said. Polls commissioned by the vaping industry have shown an outright ban would be unpopular in key states for the 2020 election.
Federal officials are expected to announce the new plan as soon as Friday. Open-tank vaping devices, which allow users to mix their own nicotine liquids, aren't popular among children or teenagers, who tend to use vaporizers with prefilled cartridges such as those made by Juul Labs Inc. Open tanks are typically found in vape shops and allow consumers to custom-mix flavors.
The new policy, intended to curb a surge in underage vaping, would apply only to pod-based vaporizers such as those made by Juul, NJOY Holdings Inc. and Reynolds American Inc.
It would pull from the market all e-cigarette refill pods except those formulated to taste like tobacco or menthol, the people said, dealing a blow to an industry estimated to have estimated $9 billion in annual revenue. The sweet and fruity flavors that would be banned under the new policy represented about 80% of retail-store e-cigarette sales in 2019, according to analyst estimates.
The ban would prohibit mint but would allow menthol e-cigarette pods to remain on store shelves, a change from the agency's earlier plan.
Mr. Trump has signed legislation passed by the House and Senate banning tobacco and e-cigarettes to anyone under 21.
In anticipation of the FDA's flavor ban, e-cigarette market leader Juul Labs in November voluntarily stopped the sale of its mint refill pods in the U.S. It had previously halted its U.S. sales of sweet and fruity flavors such as mango, cucumber and creme. Mint was its most popular flavor in 2019, representing about 70% of the company's U.S. sales. Government data released in November showed that mint was one of the most popular e-cigarette flavors among teenagers
Dissecting the Vaping Illness Mystery
Vaping related illnesses are on the rise, and it appears to be related to a black market of THC vapes. WSJ's Daniela Hernandez sat down with experts to understand what is happening.
In September, the Trump administration said the FDA would ban all e-cigarettes other than those formulated to taste like tobacco. Some conservative interest groups and vaping industry groups fought the ban, arguing it was better to focus on preventing just minors from gaining access to the products.
They sought to raise a political point with Mr. Trump, too, saying vaping was popular in key states he needed to win re-election. Some public-health experts said menthol e-cigarettes should remain on the market as an alternative to traditional menthol cigarettes.
Fruity flavors were the most commonly reported type of e-cigarette flavor among middle- and high-school students, according to 2019 data from the National Youth Tobacco Survey, published in the Journal of the American Medical Association. Menthol or mint flavors were second among both groups.
A separate report published in the same journal showed that among 10th-graders and 12th-graders who used Juul products, mint was the most popular flavor, followed by mango.
Blamed for a rise in teen vaping, Juul in 2018 stopped selling in U.S. retail stores all flavors other than mint, menthol and tobacco but continued to sell sweet flavors such as mango on its website until it halted online sales of those flavors in the U.S. in October 2019.
While Juul now sells only menthol and tobacco flavors, other manufacturers such as NJOY and Reynolds American derive the bulk of their e-cigarette sales from fruity flavors such as watermelon and blueberry, which would be prohibited under the FDA's new policy.
After Juul took most of its flavors out of stores in 2018, many users switched from mango—previously its most popular flavor—to mint, according to a Credit Suisse analysis of Nielsen data.
Citing the planned ban on e-cigarette flavors, Altria Group Inc. in October wrote down its investment in Juul by $4.5 billion, cutting its valuation of the startup by more than a third. The Marlboro maker paid $12.8 billion last year for a 35% stake in Juul, making it one of Silicon Valley's most valuable startups.
E-cigarette makers can apply to the FDA for permission to bring flavored products back on the market. To do so, they must demonstrate that the products provide a net benefit to public health.
By May, manufacturers must submit for FDA review any vaping products they want to remain on the market beyond that point, even those that taste like menthol and tobacco. Juul had been preparing application materials on four flavors—mint, menthol, mango and Virginia tobacco—but plans only to submit applications for menthol and Virginia tobacco for the May deadline, according to people familiar with the matter.
Reynolds American has already submitted an application for some of its Vuse e-cigarettes to the FDA, gaining a head start on Juul and the No. 2 e-cigarette player, NJOY, in seeking permission to keep its vaping products on the market.