CDC Steps Back From Broad Recommendation to Refrain From E-Cigarettes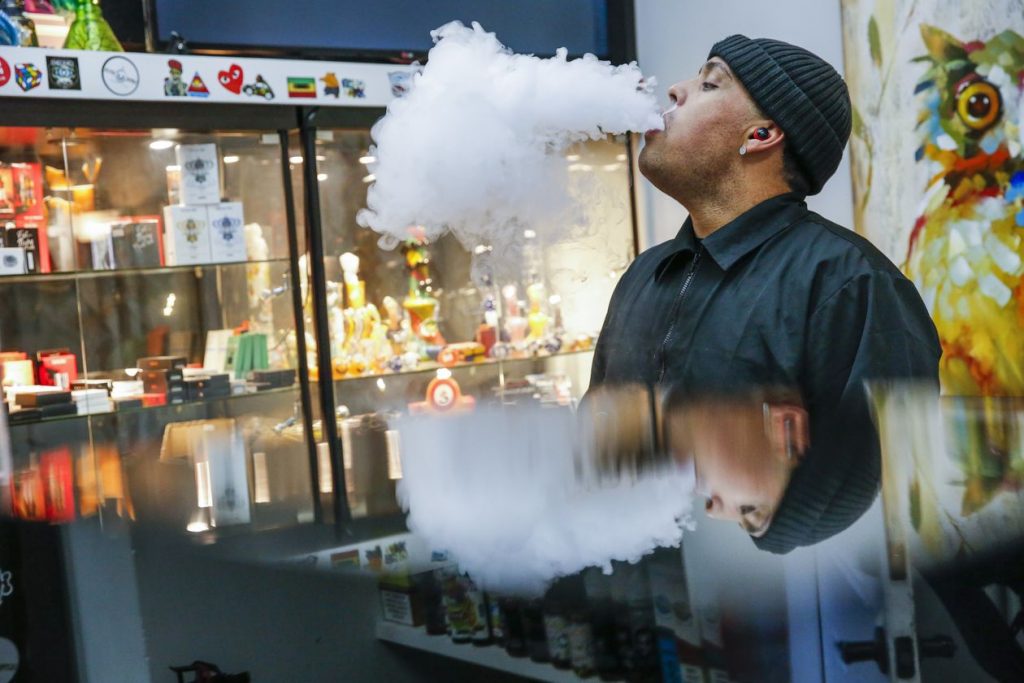 By Brianna Abbott
Updated Jan. 17, 2020 7:05 pm ET
The U.S. Centers for Disease Control and Prevention has moved away from a broad recommendation that people consider refraining from vaping altogether during the investigation into the outbreak of lung illnesses linked to the practice.
The agency removed from its website guidance that people should stop vaping if they were concerned about the illnesses. The agency first said people should end the use of vaping products in September, but later narrowed that recommendation, warning that people should stop using vaping products containing THC—the psychoactive ingredient in cannabis—but consider refraining from all vaping.
The new recommendation, posted on Thursday, no longer includes the broad reference to stopping vaping, though the agency still says youth, pregnant women and non-tobacco users shouldn't vape.
"Recommendations were refined to reflect the best available scientific evidence and to best protect public health," Brian King, the chief science officer for the CDC's vaping-related outbreak response, said in a statement.
Evidence has increasingly linked the sudden explosion of vaping-related illnesses to a substance called vitamin E acetate, an oil sometimes added to dilute THC products. THC oils and cannabis products are becoming legal in an increasing number of states across the country.
"The available science shows that Vitamin E acetate is strongly linked" to the outbreak, Dr. King said.
The CDC on Friday also made a distinction between the outbreak of vaping-associated lung illnesses and the rise in teen vaping in a report in the New England Journal of Medicine.
Some public-health experts and those in the vaping industry have said those issues have been conflated.
"There's really a tale of two epidemics occurring," said Dr. King in an interview.
The outbreak of vaping-related illnesses started in 2019, health officials believe. Most patients had vaped THC-containing products obtained from unregulated sources, and 62% of the patients were young adults between the ages of 18 and 34 years old.
Youth vaping, however, has been on the rise among U.S. middle- and high-school students since 2011, with a surge in more recent years, and is largely associated with vaping nicotine.
The upswing in youth vaping has been driven by a number of factors, including advertising, the attraction of fruity flavors, and the availability of easily concealed devices that deliver higher levels of nicotine, the New England Journal of Medicine report said.
Dr. King also noted that vaping, whether of nicotine or THC, isn't harmless, especially for young people.
The CDC is maintaining its guidance that former smokers using nicotine e-cigarettes shouldn't go back to smoking, but should contact their health-care providers if they need help quitting tobacco products, including e-cigarettes, or if they are concerned about the illnesses, the CDC said.
There have been 2,668 hospitalized cases of the vaping-related illness as of Jan. 14, and at least 60 people have died, the CDC said. Hospitalizations have slowed since peaking in September, but new cases and deaths are still being reported.
The CDC said there isn't sufficient evidence to rule out chemicals in addition to vitamin E acetate as a cause of the illnesses. The agency also said illnesses in people who say they only vape nicotine warrant further investigation.
Roughly 82% of patients of the lung illnesses for whom substance-use data is available reported using THC-containing products, while roughly 14% have reported exclusive use of nicotine products, the CDC said.
Those efforts were met with resistance from the vaping industry, vapers and other public-health experts who say e-cigarettes are a useful tool to help adult smokers quit.
In September, President Trump said the U.S. planned to pull most vaping products from the market, as public pressure to curb youth vaping mounted.
However, the ban eventually released by the U.S. Food and Drug Administration earlier this month pulled back on those earlier claims, exempting tank systems typically found at vape shops from the ban on fruit-flavored products.
The action was largely seen as a compromise among officials who wanted to address teen vaping and those concerned about the impact on small businesses, such as vaping shops, and the potential political fallout.
The CDC also said it has transitioned from a collective emergency response back to having individual departments or people handling the outbreak based on their areas of expertise, a process that typically occurs toward the end of outbreak investigations.
The agency is going to continue collecting data from states, communicating with the public and investigating the outbreak, Dr. King said. He added, however, that the process would be more streamlined into people's day-to-day activities and would primarily take place in the tobacco-control and injury-prevention offices.